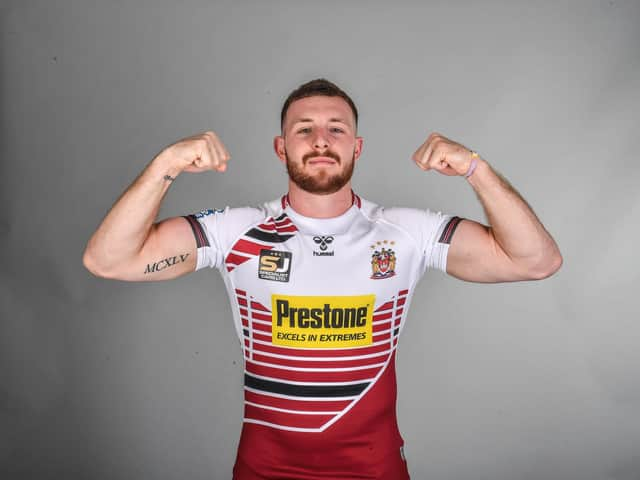 Jackson Hastings has starred for Wigan this season
The new national coach left Wigan's Jackson Hastings – the reigning Steve Prescott Man of Steel – out of a long-list of potential candidates for the Ashes series.
Warrington's Blake Austin, who like Hastings played for Great Britain last autumn, also missed out.
Inevitably, it suggested Wane would not go down the route of choosing players who qualified through their ancestry or the residency rule.
In a fresh interview to be screened tonight, the ex-Warriors boss has clarified his position and says he has not totally ruled out the prospect of picking someone like Hastings, who has an English grandmother.
"I am very patriotic and if I was to bring anyone in who wasn't English into the team, they'd have to be outstanding," said Wane on the season premiere of Rugby League Back Chat, which airs on FreeSports at 5pm this evening.
"If two players are playing exactly the same I'm going to go with the English kid.
"But, fantastic performances in Super League and the NRL - the door is never closed.
"Fantastic performances from everybody, which I would expect, would get you in the team, no question."
Wigan coach Adrian Lam has backed former Salford halfback Hastings to surface on Wane's radar this season.
"I'm sure the door isn't closed to play well and make that team," said Lam.
"Jackson's head is in a good place, he knows it's out of his control. What he is in control of is playing great for our club every week."
Lam revealed Wane spent a day with his former club last week and watched the players train.
Asked whether he was surprised about Hastings' absence, Lam, who is also the Australia assistant coach, said: "I don't know why they've been left out, it's none of my business.
"Shaun Wane's the coach and it's his job to pick the squad.
"It's always difficult as a coach of a national team and pick a squad and everyone be happy."
Rugby League Back Chat airs on Free Sports at 5pm today. The channel is available: Freeview 64, Sky 422 HD, Virgin 553 HD, Freesat 252, BT 64.