The 18th Man Column: Which Wigan Warriors fringe players deserve a chance?
With no game tonight, our 18th Man columnists discuss which fringe players they want Adrian Lam to give another chance to this season...
Thursday, 15th October 2020, 8:45 am
Updated
Thursday, 15th October 2020, 8:48 am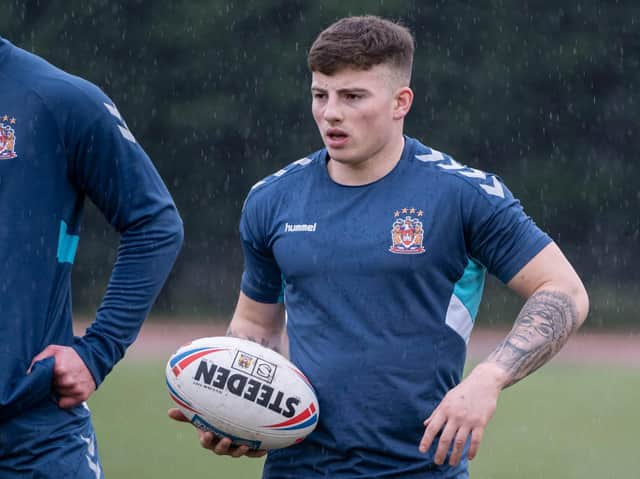 Hooker Amir Bourouh has impressed fan Darren Wrudd
With six games left, which fringe players– if any – would you love to see given a chance in the Wigan side?
Sean Lawless: If Wigan can secure a top four place early, then I would love to see Ben Kilner, Harry Rushton and Umyla Hanley get another crack at the first team.
Their game against St Helens was tough and, if they can get the opportunity to play alongside more first team players in a competitive game, I think that will give them confidence going into next season – or the next NRL season for Harry Rushton!
Jon Lyon: I would like to see Chris Hankinson have a few games between now and the end of the season.
If we need to keep the likes of Manfredi, French and Hardaker fresh then let's rest one each week and give Hank a run of games.
He's never let us down either on the wing or at centre, and was kicking very well last time he played.
It's no use leaving him without any games then, if injuries or Covid strike, throwing him in at the deep end unfit and out of form.
Steve Ford: The two players I'm pretty sure will get an opportunity and who I want to see again playing for the first team are Ben Kilner and Kai Pearce-Paul.
They are both, I feel, top prospects who played well against Saints.
Darren Wrudd: This year has been a difficult one all round, and to get some consistency running into the play-off end of the season would mean trying to get some solidity of choice among the squad.
Lots will depend on injuries and Covid, but I am sure there will be space for one or two youngsters to come into the side providing we don't over egg the pudding and leave us vulnerable.
Out of the youngsters we have seen so far, I am particularly impressed with Ben Kilner and Amir Bourouh, although there are several others who are obviously going to make the grade too.
Kilner looks a long-term prospect with a great work ethic and no-nonsense approach to defending, as we saw when he smashed Alex Walmsley. Bourouh just has that little sparkle about him and some extra game time will develop his game at a pace. We are indeed very lucky at Wigan to have such a professional and dedicated structure in place throughout our youth teams around the area that we can produce such talent on such a regular basis, it's always an exciting time at Wigan.
Alex Graham: With the such few games left and a reduced play-off format I'm not sure we can risk fringe players for the sake of giving them a run out. However, if there are any forced changes I think the main player I'd like the see given an opportunity is Chris Hankinson. Whenever Hankinson has been given an opportunity he's generally been solid and has shown enough potential and reliability to cover certain positions. However, for whatever reason Lam doesn't see him part of the larger squads let alone starting 13.
Personally I think Hankinson is a better option at centre than Bibby and Isa, who excel in other positions and should be given a chance.
Three other players who I think would cover well are Sam Halsall, Umyla Hanley and Ben Kilner based on their impressive performances against St Helens a few weeks back.
The Challenge Cup Final is on Saturday – who do you want to win, and why?
Sean Lawless: Both teams have great cause to win it, Salford would be remarkable and Ian Watson's stance in the game continues to grow and grow, there are plenty of Wigan old boys in there and I would love to see Kevin Brown win a trophy!
However, Leeds and winning it for Rob Burrow is almost the perfect story, and I hope they can win it for him. Watching from home, I am a happy neutral, either team for me and I can't believe I have written that when Leeds are involved – but somethings are greater than sporting rivalries.
Jon Lyon: Is anyone not supporting Salford?
I would never cheer on Leeds unless they were playing Saints or Warrington in a final (it can never be their year!)
It would also seem disloyal not to support a local team who aren't our arch rivals.
Ian Watson has done a fabulous job and it would be nice to see him take home a trophy, so he has something tangible to show for all his efforts.
Not to mention the ex-Wigan contingent such as Sarginson, Brown, Flanagan, Burke, Dudson and Mossop, it would be like a Wigan B team victory. Sadly it seems they've suffered two positive and two inconclusive Covid tests this week.
Hopefully they are able to put out a strong team still, they are certainly capable of victory.
Steve Ford: Got to be Salford. They've been my 'second team' since they beat us in the late 60s in the Challenge Cup at Central Park.
They had some great players in Hesketh, Fielding and Dixon and they played some fast open rugby.
The current lot never know when they are beaten, and I love their fighting team spirit.
Darren Wudd: Come on Salford!
Again a smattering of ex-Wigan players makes it easy to support a Salford side these days as a neutral supporter. But I really am not neutral. I do like Ian Watson as a coach. He seems measured, down to earth and a genuinely nice bloke.
The club seems to have got over the financial issues from the Koukash era and is building a footprint to begin challenging more often in the big games.
A little under the radar, Salford are becoming a scalp worth taking and I hope the club continues to improve. The biggest shame is that no fans can be there to cheer them on, but it could still spell the beginning of a new era for the club.
Beyond that, let's be honest – it's Leeds. For years the little darlings of the RFL have been a pain and a bogey team so just to see the look on Hetherington's face – COME ON SALFORD!
Alex Graham: If I was totally honest I don't really care.
To reach the final this year teams will only had to win two games in a Covid-plagued competition, so the Challenge Cup this year is a write-off and isn't really a major achievement as it's simply fulfilling commercial obligations.
Don't get me wrong, I'd love for Wigan to be there and I've no doubt Salford fans in particular will angrily disagree.But 2020 will always be about the impact of Covid on the sport and not whoever wins either major competition.
Special offer: Get 15% off our digital sports subscription - read unlimited Wigan Athletic and Wigan Warriors stories for less than 60p a week! Click here