The 18th Man column: Wigan Warriors' schedule and try celebrations
Our 18th Man columnists discuss the prospect of three games in nine days - and the best try celebrations...
By Phil Wilkinson
Published 25th Sep 2020, 08:22 BST- 4 min read
Updated 25th Sep 2020, 08:32 BST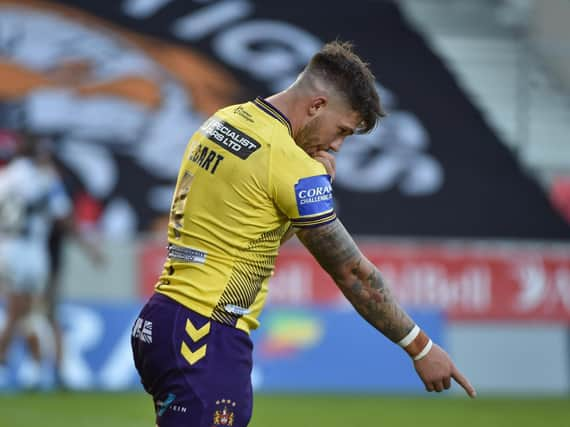 Darren Wrudd: Three games in nine days is a lot in this sport.
With such high casualties given the new rules which speed up the game even more than usual, I would suggest that player welfare has to come above all else.
Managing the players like we did with Sam Powell last week, keeping him off the field after a tough knock to the head was a decision looking forwards I thought.
I am not saying that we should be wrapping the guys in cotton wool by any means, they are athletes at the pinnacle of sport, but if lads need a rest in the middle game then they must get it and use our squad to its fullest extent to cover the gaps.
Imagine some of the young lads now wondering if they will get a shot against Saints, dream come true time don't you think.
I think Adrian Lam has such experience in our game that he will be well ahead of the many different scenarios and we will field a competitive side in each game. Only the third, however, is a knock-out and I am sure that is on the back of everyone's mind.
Alex Graham: As good as the Wigan performance was at the weekend, I think Hull showed how three games in such a short period can affect fatigue.
We see it every year during the Easter period too, therefore Adrian Lam has to be really smart when it come to player rotation.
With the Challenge Cup semi-final against Leeds following St Helens, we have to be very careful how we approach the fixtures.
The derby is too physically and mentally draining to expect our preferred starting 17 to back up and win a semi-final a couple of days later, therefore I'd go for the same approach to the game but with a younger, fringe side with a stronger bench.
Ste Ford: Priority I suspect for the club financially has to be the cup. I would play a full team from those available versus Wakefield and play as many 'fringe' players as possible versus Saints.
Following Oliver Gildart's try celebration... what's the favourite try celebration you've seen? And should we see more of it, especially now players can't hug each other?
Darren Wrudd: Scoring celebrations in sports can be all sorts of things, from the now iconic Peter Crouch Robot to complex choreographed efforts from groups of lads, but in rugby league they are less frequent and yet I simply love to see them.
I have many favourites like Lee Briers jumping the hoardings and sitting next to a fan in an empty seat clapping his own effort, although Sean Long's big dive under the posts on an interception try to celebrate his skill was ace as he dropped the ball and it was disallowed. But my favourite has to be the Henderson Gill's hip wiggle.
That guy had moves and, if I remember right from a few nights spent at Chaplin's night lub a long time ago, he practiced them on a Saturday night out in Wigan.
They are a great part of our sport and the funnier the bette,rlike Gildart's referee imitation, so bring them on lads, let's see some good ones.
Alex Graham: My favourite celebration was the Offiah and Edwards nod which allegedly was purposely done in front of the Nissan advertisement board for a nice little bonus!
Of course we should see more, the sport is entertainment and the more innovative ways of celebrating the more fans will engage. It shouldn't just be for tries too, let's see celebrations and crowd interaction for forced errors, knock ons and assists too...
Ste Ford: I'm not really into "celebrating" tries and quite happy with the old handshake and slap on the back routine. If we've got to have routines how about the old Henderson Gill routine of 'doing a bit of a boogie'.
What impressed you the most about Wigan's win against Hull FC?
Darren Wrudd: Defensive attitude was the biggest plus in my mind coming out of that game.
Every player who took to the field in our shirt was simply determined to run harder, tackle better and make educated and calculated decisions in general play.
This gave us an air of professionalism which has not always been there this year, but was most welcome.
Individually Joe Greenwood was most impressive and is getting back to his best it seems, while Sean O'Loughlin just shows how much we have missed him.
Our kicking game too was a huge improvement and helped our dominance throughout the evening. So a polished performance and positive attitude made my weekend.
Alex Graham: Our relentlessness and intensity in defence just seemed to be a different level this week. I'm not sure whether it was something done differently in training or a different team mental approach, but the attitude and body language looked like a team who will challenge for silverware. This team has always got the potential to attack well, but I think the strong defence gave the confidence and platform to execute our attacking chances.
Ste Ford: Defence and commitment. We played effectively with a squad of 14 players for large parts of the game. A fantastic effort from every single player.