Wigan Warriors' Chris Hankinson taps into PT background
Chris Hankinson has tapped into his background as a personal trainer to help keep himself fit while the season is on hold.
Published 15th Jun 2020, 08:15 BST

- 2 min read
Updated 15th Jun 2020, 08:16 BST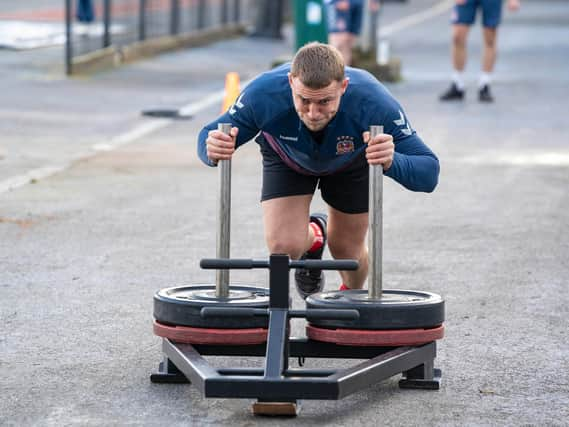 The centre has drawn up some programmes for himself – and some team-mates – as they wait for the green-light to restart.
Because of rules around the furlough scheme, in which the government pays a portion of players' wages during lockdown, they are prevented from taking part in formal training sessions.
And so Hankinson, also a qualified electrician, has been grateful for his earlier career.
"I graduated in sports science and I have done some PT, so I've thrown together some programmes and it's been quite fun to do," he said.
"I've turned my back yard into a bit of a gym, and going on runs, too."
Prop Joe Bullock - who like Hankinson joined Wigan from a Championship club - is among those who has benefited from Hankinson's advice.
"I knew Chris used to be a PT and so he has sent me some sessions to mix it up a bit," said Bullock.
"They are usually horrible but they're keeping me fit! I feel like I'm not far behind where I was at when I was playing." With the Premier League and Championship returning this week, it has whet the appetite for Super League resuming the season.
Bosses are still aiming for a restart in mid-August.
"It looks more promising every week, I'm waiting for a call to say, 'This is when we're back', it feels like it's around the corner," said Hankinson.
"I think it'll be a case of, 'Here's the return date, you've got three or four weeks to get ready', and I think that's enough time.
"If you had injury and were training on a bike, it'd be the same - get back doing contact and playing after three weeks. That's the big thing, the contact side.
"You can do your fitness and strength at home but you need that feeling of contact again."
Meanwhile, fans are being urged to sponsor Wigan players Morgan Smithies and Amir Bourouh as they embark on a fundraising challenge today.
Along with Warrington's Riley Dean, they will each run 48 kilometres – about 30 miles – in 48 hours over the next two days.
The trio grew up playing for Siddal ARLFC and with the season suspended, they decided to take on the
challenge in memory of one of the Halifax amateur club's leading all-time players, Nick 'Smudger' Smith, who died in December 2017 from Motor Neurone Disease at the age of just 38.
They have already raised more than £1,500 and can be sponsored via www.nicksmithfoundation.org.uk/48