Wigan Warriors: The 18th man - 'Expect fireworks' between England and Tonga in final test match
Our panel of Warriors experts this week reflect on England's series win over Tonga with a game to spare, predict 'fireworks' for the third and final instalment and pay tribute to the departing Morgan Smithies.
Watch more of our videos on Shots! 
and live on Freeview channel 276
Visit Shots! now
England have wrapped up the series with a game to spare. Tonga just didn't have the answer to England's grit and guile and Shaun Wane was obviously pleased to get the job done early. Matty Ashton made the most of his opportunity, Harry Smith continued to keep the team ticking over and John Bateman stood up after a disappointing first test. I was hugely disappointed to see Liam Farrell only get three minutes, not least as I had him down for a try and an England win. Cheers Waney! Seriously though, it was to me a hugely disrespectful moment for the Warriors skipper. Why bother at all?
I am sure we will see a different side at Headingley this weekend (I don't care how many sponsorships Leeds get for it, it'll always just be Headingley!). George Williams will get a run out after serving his ban and you have to feel that whoever misses out between Smith and Lewis has been hard done to. There seems to be an interesting Wigan v Saints subplot in the test series with Wane taking regular snipes at Woolf and Wellens, and seemingly getting under the their skin.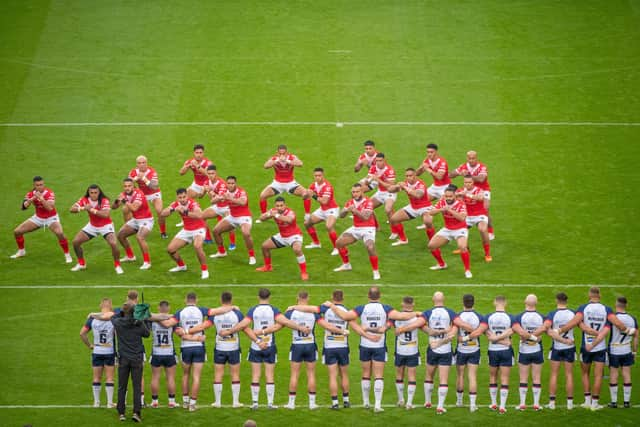 Another name that's been brought into the squad is Morgan Smithies. With his move to Canberra finally confirmed, it now stacks up as to why Wigan have recruited heavily in the back-row and possibly the rationale as to why Luke Thompson was secured. I have seen a lot of opposition fans claiming Wigan have been on a spending spree, but let's be honest, Wigan have retained and replaced better than anyone in Super League as it stands. The loss of Smithies, as well as Pearce-Paul, King, Cust and Thornley have been tempered with the recruitment of Thompson, Walters, Eseh, Chan, Keighran and Leeming. Let's not forget Wigan never really replaced John Bateman either last season, we just promoted from within. The rumour of Owen Farrell is still not going away though. I will be honest, I can't see it, he's not a million miles away from being Rugby Union's all time greatest point scorer and I think that would be the greatest 'up yours' to a code which has at times vilified him for no other reason than being a northerner. Having said that, what a coup it would be to see Farrell 13 in cherry and white once more.
I must admit to a quiet smile whilst watching the pre-match interviews last weekend. Kristian Woolf was full of veiled comments about having to change his tactics to accommodate the referee's leniency on the slow rucks against his team, Shaun Wane was obviously quite annoyed that his chargers had not been given the respect that they had earned by slapping the big antipodeans down in the first test. Game on, eh! Much of the Aussie press had reported that this series would more or less be a training run for the Tongan side and the obvious lack of quality in this England camp would not be a match worth watching. Well we played our game and not their version and they just could not match us. It seems they had believed their own press and were shocked by the nature of our first game victory.
Well it obviously was not going to happen again as the big fellas stomped around the field trying to inflame every hard tackle into a scrap as they spat dummies everywhere when they did not get their own way. Credit to our lads though, as a couple were drawn into perhaps wanting to teach the antagonists a lesson or two in etiquette (read 'Biff'), we largely kept our cool and taught them a lesson in how to play the game.
I am liking this squad as a whole, although without inside knowledge it is difficult to see why on earth Liam Farrell only came on for the last few minutes. Surely with how ineffective Bateman was in his attack, Farrell would have offered much more. But I am sure Wane had his reasons and I have come to understand that as a mere spectator, I have little to offer in the tactics of victory at this level.
A couple of highlights in the game were the performance of young Matty Ashton who earned his call up and showed why he should be first choice on the wing this week rather than an injured Makinson. Also the way our forwards managed to dominate the middle field with Chris Hill standing out for me as a superb player. A good old fashioned prop is Hill who never takes a back step and just tucks the ball and runs hard.
The final game is anything but a dead rubber. A 3–0 final score in the series will be hard-fought and hard-earned if we get it. But the Tongan pride is a very dangerous obstacle. They will want to go out on a high to show it was nothing more than a few rusty performances and will, I think, be desperate. So expect fireworks in the tackles with a nasty edge. I would love for us to whitewash them and send them home with a little more respect for our game up north, come on lads, leave them no excuses and rub Woolfie's nose in it.
Another good victory on Saturday, I didn't think the game was as good as the first one, but conditions probably played a part in that, too. I thought England were dominant in the first half but Tonga came back into it more, as England's unforced errors total mounted. Harry continues to look comfortable in the international arena, and good performances from Bateman and once again McMeeken too. A disappointing attendance, whether was due to the weather or it being on TV, having said that only about a thousand down on the week before, although looks worse with it being a bigger stadium to fill. Noticed that Ryan Brierley criticised the choice of venues, perhaps Hull or Warrington might have been a better choice than Huddersfield. According to reports however, it looks like ticket sales are healthy for Leeds on Saturday, another good game expected, I just hope the rain stays away. On the Warriors front, I'm sad to hear that Smithies is leaving. He really has been an improved player for us this year and he will be missed. Once again we seem to lose a lot of our players to the NRL in comparison to other clubs. However, I'm glad to see him in the England squad this week and wish him all the best at Canberra, I'm sure he will go well.
Another win for England over Tonga at Huddersfield in pretty poor conditions to give England a winning 2-0 lead in the three match series. I have been very disappointed with the quality of the Tongans in their first tour to England and I expected a much better coached team and I anticipated a far more skilled Tongan team. Obviously conditions were poor - but were poor for both teams. Australia and New Zealand are not strangers to heavy rain in their regular playing seasons so some heavy rain in West Yorkshire should not have been a surprise nor a hindrance to their overall performance. I accept that there were no warm up games prior to the series but I don't think that it was unreasonable to assume that Tonga would improve upon their first test performance. Maybe Tonga underestimated the resilience of the English team or maybe they just believe in their own hype. All that said, I was still very pleased with the defensive effort shown by the entire England team against a much physically bigger team across virtually all positions on the field. Good performances again from McMeeken and Smith with Bateman and Hill showing up much better than the first test. Ashton took his chances well and in reality perhaps should have secured three tries rather than a well deserved double. The English pack stood up well to a physical Tongan pack with big impact tackles the norm with Radley and Fonua-Blake being the recipients of a couple huge blows in the first half. I think the English resilience and some poor handling led to some ill discipline from the Tongans which enabled Smith to convert penalties into points and keep the scoreboard ticking over. A very scrappy game but England prevailed despite missing the attacking threat of Williams, Makinson, Young, Farnworth and Wardle. Obviously I would have preferred a win with more flair and tries however, international rugby is all about winning and Shaun Wane's team have won the series with a game still to go. Ideally I would have preferred more younger players given a chance thinking of the 2025 tour to Australia and I hope Dupree, Mulhern and Smithies get the chance to show what they can do in the third test at Leeds. I predicted a 3-0 whitewash and nothing that I saw in the second test has made me change my mind. It wouldn't surprise me if we won the third test by over 20 points. I really hope that we do.
The departure of Smithies to Canberra announced this week surprised absolutely no one. Although widely known and fully expected it was still disappointing to hear the official statement from the club confirming his departure. I think that Smithies has improved hand over fist in the last two seasons under Matty Peet's stewardship. Always hard working and exceptionally fit, he has added an ever-improving handling game to the point where I thought that he became the best loose forward in the competition by some distance. The vast majority of opposition fans seem to totally underestimate Smithies. Often called a "grub" and reportedly only makes so many tackles due to his constant third-man into tackles approach. His all round game continues to grow and I am pretty sure that once Ricky Stuart, the Canberra coach, starts to fully appreciate his potential handling skills then Smithies will really make an impact in the NRL and surprise a lot of people. I wish that the lad wasn't leaving as I believe that he will be sorely missed but I cannot blame a young guy looking to make a bigger name of himself in the sunnier climes of Australia and at the same time making a few bob. I wish the guy all the best and he can leave the club with his head held high as his great performances for the club continued long after he had signed for Canberra. Another lad developed through the Wigan Academy who will make it in the NRL.