Wigan Warriors: The 18th Man - 'Harry Smith is the best English traditional scrum-half in a generation'
Our panel of Warriors experts discuss the final chapter of the 2023 rugby league season that finished with an England whitewash over Pacific Islanders Tonga.
Watch more of our videos on Shots! 
and live on Freeview channel 276
Visit Shots! now
Harry Smith in my opinion is currently the most important player for Wigan and England. He may not have the explosive or exciting moments in a game such as Field or French, but he is the glue that bonds the team together and enables Field and French to show their exciting talents. For me he is the best English traditional scrum half in a generation, if not in several generations. No player is irreplaceable however without Smith, Wigan and England would be almost rudderless. He dictates how we play and when to play the important move at the right time. In my opinion his kicking from hand is as good, if not better, than Andy Farrell and Bill Ashurst who I thought were the best kickers of a ball to play in my lifetime of watching Wigan. It's difficult to try and remember when a significant minority of Wigan fans were blaming Smith for some inept performances during Lam's tenure when Smith had to play with a very young and underpowered pack. For a 23-year-old he plays with a maturity far beyond his years and for me it is a joy to watch him each week. An area of his play where I feel that he has improved significantly is his defence. Wigan's defence improved as the year progressed in 2023 and Smith played his role in this improvement. Perhaps the biggest personal accolade that I can give Smith is that if he continues his trajectory in his performances is that I will start to compare him favourably with my favourite scrum-half of all time, Andy Gregory. The downside to Smith's performances in 2023 is that I am certain that he is firmly on the NRL clubs radars and Wigan will have major problems in retaining him when his contract expires in, I believe, 2024. Hopefully Radlinski and Danson can work the oracle to retain his services for quite a few years.
A 3-0 series win by England was richly deserved against a disappointing Tongan touring team. It would be easy to assume the victory was due more to Tongan deficiencies rather than English skill and togetherness in the English team. As the series progressed I thought England got better and better and in the third test we were far better than Tonga in every single aspect of the game and scored some decent tries to boot. After a disappointing World Cup semi-final defeat to Samoa I thought that a depleted England team responded particularly well and when we can also add players with excellent skills such as Farnworth, Havard and Wardle to the team then I think that it bodes well for the England team in the future.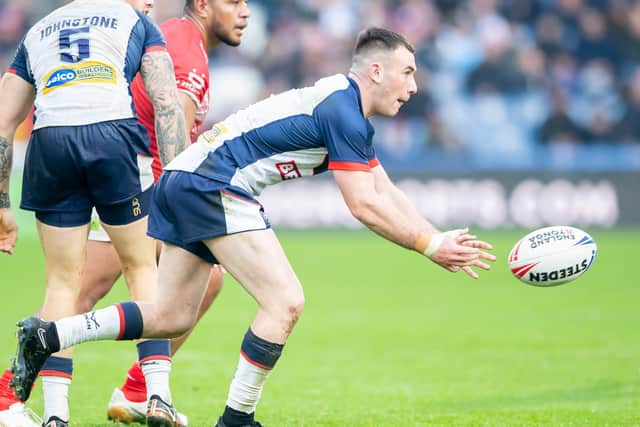 I was really pleased for Shaun Wane in the series whitewash over Tonga. I believe that Wane is a proud Englishman and he rallied his troops really well after the prior year's failure. The team looked really together, very well prepared and implemented their tactics exceptionally well. It had Wane's imprint all over it. I think that he outthought Woolf throughout the series and he used some comments from the Tongan camp after the first game to further galvanise the team. Wane isn't everybody's cup of tea but I think that he is pretty perfect for the England coach in that he prepares teams in detail for their individual roles, is very much a team player and he takes great pride in his position and his responsibilities in his role. I can't wait to watch the next England (I'd prefer Great Britain) versus Australia test match with Wane leading the England.
Cust is on his way to Salford after a couple of years in the Wigan squad. A likeable guy who after a solid start to his career with Wigan but didn't seem to recover from his elbow injuries and eventually found himself out the regular starting 17 after French picked up the stand-off role. I wish the guy well in his new adventure. At the time of writing it sounds like Powell is off to Wire after a long career with the club. The writing was on the wall after Leeming's signing which I must admit still has me scratching my head. I think that Powell played a major role in our perfect end to the season and if he is to depart then I think that he will be a great addition for Wire and I think that he will be a significant loss to Wigan's squad. Hopefully there are no more departures although it wouldn't surprise me if Shorrocks and possibly even Hill may well depart before the start of 2024. I am still hopeful that the never ending rumour of Owen Farrell will actually become reality but as time progresses I think that unfortunately that he will remain in the Union fold.
Already looking forward to 2024 to see how we progress with some major changes in the squad and with Leeds, Hull KR, Huddersfield and Hull enhancing their squads. Can Burgess finally deliver Wire a Championship? Can Saints maintain their status as a major force with an ageing squad? Will we play Penrith? Can't wait!
What a fantastic series Harry Smith has had, fully deserving of his Player of the Series award. I couldn't be more pleased for the guy.
Full credit too to Matty Peet and the coaching staff in sticking with him, he was copping a bit of flak on the fans' website, and he has answered his critics in the best possible manner.
He looks so comfortable on the international stage, for such a young man.
England were comfortable winners in the series, although Tonga were a massive disappointment considering the number of NRL players in their ranks, and showed no signs of improvement from Game 1 to Game 3. Personally, I thought Shaun Wane went a bit over the top in his reaction made to the comments attributed to the Tongans. I think we should just concentrate on ourselves and not worry about what the opposition are saying.
It is nice to see international rugby alive and kicking and hopefully the visit of Samoa will take place next year, and other nations including developing nations get the chance to test themselves against other countries in the next 12 months.
We shall wait and see what happens with the will he/won't he sign saga regarding Owen Farrell, with conflicting views on the fans' website as to what will happen next. We await the announcement of the squad numbers, the new kits and the fixtures for 2024. Time now to recharge the batteries and look forward to next season.
Well, there we have it. Farewell to 2023. Shaun Wane's England completed a 3-0 whitewash of a disappointing Tonga. Harry Smith came out with accolades as the player of the series and the season can be now put to bed. Right? Well yeah, but, when are the kits out, are there any more signings?... Sam Powell seems destined to join his namesake Burgess at Warrington. It's a move that puzzles me somewhat. As it stands Wire have two hookers and umpteen back-rowers which is where he finds himself at Wigan. Perhaps it's the chance to make his name as a leader in what has clearly been a toxic culture. It got me thinking as to whether any players have gone on to great success after leaving the Warriors, whether that be to the NRL or clubs in Super League, and I can't think of any that have outperformed the club in that time. Sam Tomkins won a Challenge Cup and a League Leaders' Shield, Josh Charnley won the Challenge Cup at Wire and Leigh. Generally speaking though, players rarely win as much as Wigan do when they leave. One curveball this week came in the guise of Wigan and Wakefield joining up in 2024 for dual registration. I never saw that coming as Daryl Powell has made his feelings clear about Wigan on more than one occasion. Perhaps he respects Matt Peet (who doesn't?!) and the more I think about it, the more it makes sense. Fringe players can get game time at a team that's surely going to be near the top of the Championship so still in a winning culture. Youngsters can get more game time and experience in a less pressured environment. Wakefield get access to some of the best youngsters on the scene, including Sam Eseh who knows the club inside out.
Whitewashed indeed, what a great feeling to have an international side who show such promise against a full on Tongan squad brimming with NRL stars. The way we approached those three games was brilliant and a testimony to the superior knowledge and analytical brain of the fabulous Mr. Shaun Wane and his staff. I think the squad, if kept together as a whole with the odd tweak due to old age or injury, may well go on to develop into a world beating group and next year's similar test against Samoa, will be another step towards that goal.
We had some accomplished performances individually and I was particularly pleased that Elliott Whitehead scored on his swan song international game, but the biggest plus for my viewing was the team. Not a group of individuals from different clubs, but a tight knit group of lads proud to stand alongside one another and wear our precious shirt, each having earned the honour.
After our own success this year at Wigan, it could not have capped things off better for my season and I shall spend many a cold winter evening looking back at the year with a smile and possibly a hot toddy.
As for club rugby, I honestly cannot remember a time when I was as excited about the prospects for the next season. Harry Smith has become (through some damned hard work) the General and adhesive we have needed in this squad. Game plan written on the inside of his eyelids, he points, pushes and tips up his charges to form the shape of the next few moves in our plan then kicks us into position following up with the chase and great defence. Add to that the prospect of our other star players getting even better as they settle as a squad with returning from injury Cooper, Byrne and Isa and then throw in the likes of Luke Thompson, Sam Walters and Adam Kieran. The competition for places is going to be fierce but Matt Peet will also have the luxury of rotating players throughout the year.
It feels like a new era has dawned on the club and this could be a moment we look back on with a smile as it was the beginning of something great. I certainly hope so but I am now myself ready for an off season too. I shall curl up and sit with Allan the cat, perhaps watching a little Wigan TV and look forward to a fresh start next year. Wishing everyone a happy and safe time over the coming months, see you at the DW next time out!