Win and top spot 'ours to lose' - Wigan Warriors ace
Liam Farrell believes a Wigan victory over arch-rivals St Helens on Friday would mean top spot in Super League would be 'ours to lose'.
30th Oct 2020, 6:15pm
- 2 min read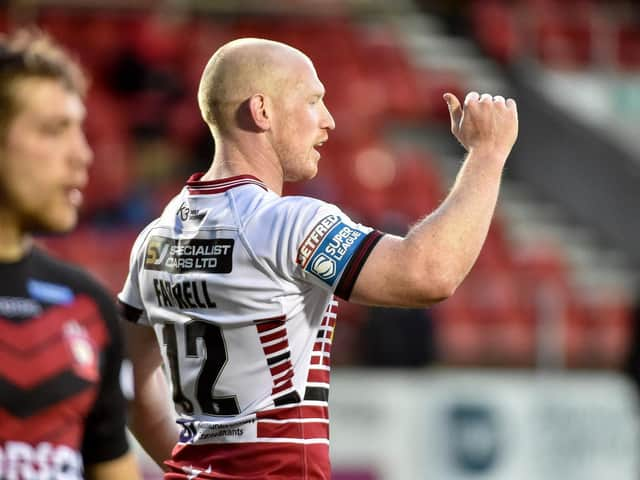 Warriors make the short trip to the Totally Wicked Stadium knowing two points would knock the Saints off their perch with three rounds to go.
And Farrell says the League Leaders' Shield is even more of an carrot than in previous years due to the revamped campaign.
"If anything top spot means even more than usual, with the way the league's been restructured, on points percentage," he told Wigan Today.
"With Saints losing on Monday night, we've got a really good crack at going top this weekend.
"The lads are so eager and so desperate to get a result this time, and the way we're playing we're more than capable.
"Last week (against Salford) was probably the best 80 minutes we've put together this year, and the Saints game has come at the right time for us. It would be a great time to go top – it would be ours to lose then."
Wigan have plenty of incentive heading into the clash, with a very young team having been beaten 42-0 in their previous meeting, just before the Challenge Cup semi-final.
That extended Saints' win streak in the derby to five matches – which Farrell is determined to put right.
"It's quite a shocking stat to be fair," he acknowledged.
"I've been on runs in the past where we haven't lost to them for five or six games, and it seems like the boot is on the other foot at the moment.
"They've had the upper hand on us for too long, and it's about time we got one back over them. But it'll be the first time this year we'll be playing them with our best side out.
"Some of our young lads played last time – and I thought they did really well.
"For us, it's about the simple things, making sure you turn up for your mate, doing all the little extra bits, and making sure the intensity and effort is there."
Special offer: Get 15% off our digital sports subscription - read unlimited Wigan Athletic and Wigan Warriors stories for less than 60p a week! Click here