Wigan band The Lathums release new single
New track I See Your Ghost, out today, is something of a change of style for the four-piece.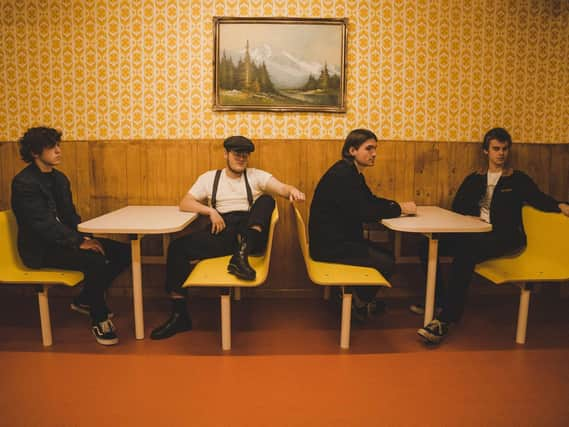 The song ratchets up the pace from the group's successful brand of jangly indie-pop to a short, sharp, two and a half minutes of music heavily influenced by ska.
I See Your Ghost took shape during a single day of recording in summer when the lockdown restrictions were eased sufficiently to allow the band to get together.
The band, made up of frontman Alex Moore, multi-instrumentalist Scott Concepcion, bassist Johnny Cunliffe and drummer Ryan Durrans, created a track with heavy bass lines, hectic verses, wiry instrumental solos and choral breaks.
Singer and songwriter Alex, whose lyrics for the song deal with the topic of the enduring presence of those who have physically departed, said: "There's something inside me, maybe li ke everyone, that ticks to the beats of reggae, ska, grime or hip-hop.
"A natural, human swing you hear in the music that, even without the tune, still exists. It's how your heart ticks. I See Your Ghost is that feeling for me."
The new single has been brought out by major label Island Records which snapped up the band and an accompanying video has been shot to go with the release which is expected to be out for fans to view next week.
In just 18 months The Lathums have gone from playing pub venues to hitting the UK Album Chart with their debut release The Memories We Make. The group has also lent its talents to the ongoing efforts to save Wigan Athletic, creating just one vinyl copy of their cover of Northern Soul classic The Snake and launching a raffle with proceeds going to the Latics supporters' crowd-funding effort.
So far the track has raised more than £3,000 for the club .
The Lathums are also working on their debut album at Parr Street Studios in Liverpool with producers, James Skelly and Chris Taylor.
The group is also looking forward to returning to the live arena next year with a mostly-sold-out spring tour involving dates spread across April, May and June 2021.
The group has also confirmed a rescheduled run of support dates for next year which will see the band hit the road in the UK and Europe opening for Blossoms and also share a bill with music icon Paul Weller as special guests on his tour.
A documentary about the band's rapid rise is also part of the latest exhibition at The Fire Within in The Galleries in Wigan town centre.
To find out more search for The Lathums on Twitter, Facebook and Instagram.