Wigan group Flechettes bring out new single
The four-piece has released its latest song Chasing Youth, with Swallow Dance making up the B-side of the single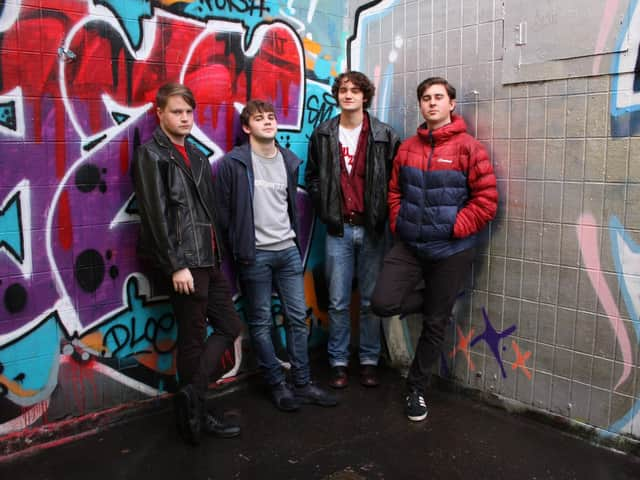 The group, made up of singer and rhythm guitarist Jack Heaton, lead guitarist Johnny Raper, bassist Will Watts and drummer Nicholas Kitts, recorded the tracks during the summer in between the two waves of Covid-19.
The pandemic brought to a shuddering halt the rockers' rise up the music scene which had been built on a near-continuous schedule of live gigs.
And although Chasing Youth was first penned last year, front man Jack says the tumultuous events of 2020 clearly influenced how the band then approached similar themes and ideas on Swallow Dance.
Jack said: "Last year I had a big change in my life and Chasing Youth is about trying to make a positive out of a negative event.
"When you're at school you always get told that they are the best years of your life, while you can't wait to live.
"The song isn't about school but it is about having to keep moving, not ignoring your feelings but appreciating who and what you've got.
"Swallow Dance is the soft underbelly of Chasing Youth. It's about the same situation but it's far more intimate and personal.
"We were gigging virtually non-stop until March, and then lockdown came and everything just went to zero. Things you had put to the back of your mind come out of the woodwork, and I think that's where Swallow Dance came from."
Flechettes, who take their name from the French word for a small arrow (a product of Jack studying military history at Manchester Met University), describe themselves as primarily influenced by their passion for guitar music and belief in its continuing relevance.
The group managed to team up with producer Gareth Nuttall at The Lounge Studio in Wigan in summer to record Chasing Youth, just before tighter restrictions were put on Greater Manchester and indoor venues had to close again.
The group was extremely relieved to get studio time after around a year of rehearsal work on the single's title track.
Musicians have found Covid-19 extremely challenging but Flechettes says lessons have been learned which will stand them in good stead.
Jack said: "It has been tough. You have to adapt to push past this, to show your fans that you are still there, kicking and raring to go.
"We were in contact all through lockdown on What's App, posting videos and asking fans which songs they'd like to hear and doing covers.
"It has taught us a lot about engaging on social media and bringing that gap to your fans."
Chasing Youth, by Flechettes, is out now. To find out more, visit https://flechettes.bigcartel.com/ or follow the group on Twitter @flechettesband
Thanks for reading. If you value what we do and are able to support us, a digital subscription is just £1 for your first month. Try us today by clicking here and viewing our offers ..