Never Go Back by Jessie Keane: Brimming with drama, suspense, cruelty and gobsmacking violence – book review –
When Jessie Keane's explosive debut novel, Dirty Game, was published fifteen years ago, it introduced enthralled readers to ruthless gangland matriarch Annie Carter... and a writer who has since earned the title Queen of the Underworld.
By Pam Norfolk
Published 16th Feb 2023, 12:30 BST- 3 min read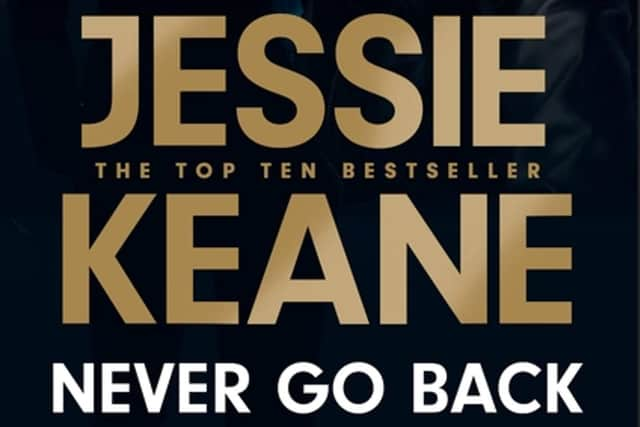 And after a career that has seen Keane sell 6.5 million UK copies of her books – including the Annie Carter and Ruby Darke series – this top-notch crime author plunges us back into the turbulent lives of the notorious Carter family and their shady East End world of danger, double dealing and death.
So buckle up tight for a rollercoaster ride as we are swept through the decades and various family histories to catch up with Annie and her ex-husband Max Carter, and discover how events in the past have rippled down the years to create a poisonous threat in the present.
Gangster Max Carter and his ex-wife Annie are leading separate lives – Annie is in New York and Max is in London. Their tempestuous relationship, past hurts and broken promises that cannot be resolved are now too much to bear.
But then a summons to Majorca and a tragic death makes Max question all that has happened to him over many years, and forces both himself and Annie to question everything they know about each other and their colourful life.
Max had two brothers, Jonjo and Eddie, but both are now dead, and his closest friend has been found hanging from a London bridge. As the police wrestle with a seemingly unsolvable case, Max must revisit his painful past to find answers to a mystery that seems to make no sense at all. Who is targeting his family and why?
Meanwhile, Annie is at a crossroads in life. She has a luxurious lifestyle but no one to share it with, and Max clearly thinks she is now in danger. Her daughter, Layla, has left her mafia lover Alberto Barolli and is back in London, stumbling into the police investigation and making waves.
You should never go back, so the old saying goes, but the Carter women don't follow the rules, they make them. And when the truth of what has been happening is finally revealed, will the Carter family stand together... or will it finish them for good?
Keane, who was born into Romany gypsy stock and has herself lived at both ends of the social spectrum, has a wicked eye for the ruthless, fiercely factional criminal underworld and this bone-crunching new chapter for the Carter clan packs a powerful punch.
Every story that Keane writes transports her readers into the heart of a terrifying but addictive underworld, and into the lives of people of every human shade… from loving, loyal and devoted to fearsome, merciless, treacherous and downright evil.
And in her trademark style, Keane once again brings us a long line of strong, determined women and a cast of larger-than-life characters... each superbly fleshed out and each inhabiting a world so palpably real that we can feel the menace, see the darkness lurking in the shadows, and sense the fear, the loathing and the breathtaking brutality that is only ever a heartbeat away.
At the centre of the action is the tenacious gangland matriarch Annie – complete with the intensely human and emotional credibility that mark out her character – and this time she faces fresh challenges posed by old family secrets, unforgiven sins and revenge-filled gang warfare.
Brimming with drama, suspense, cruelty and the kind of gobsmacking violence that has made Keane one of the most powerful writers in contemporary crime fiction, this is full-on, eye-watering (of every kind!) entertainment from start to finish.
(Hodder & Stoughton, hardback, £16.99)