'Forward-thinking' firms join forces to build first house with innovative technology in Wigan
A housing developer has revealed it is constructing the first house in Wigan with innovative new technology, as part of a set of net-zero homes.
Published 17th May 2023, 04:55 BST

- 2 min read
Northstone is Britain's first home-builder to use the precision-engineered, interlocking Ultrapanel system to construct a home at its Tulach site in Pemberton.
It is part of an innovative project to trial new house-building methods and get vital intelligence on the future of operationally net-zero homes.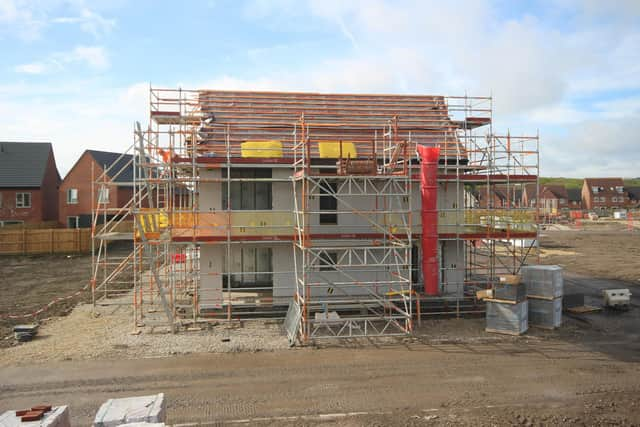 The Northstone-Ultrapanel home will not only be built to be thermally efficient, it will be packed with sustainable systems.
When complete, it will have triple glazing, solar PV panels, 6.5kw battery storage, mechanical ventilation and an integrated heat pump cylinder.
The house will also use heat recovery systems and rainwater harvesting to further boost its sustainability credentials.
Currently in construction on the site of the former Pemberton Colliery, it is due to be finished this summer.
The three-bed property will look like Northstone's other houses at the 267-home development.
Richard O'Brien, design director at Northstone, said: "The UK is at a critical moment when it comes to home-building. Whilst we desperately need to reduce the carbon emissions from the UK's homes on the journey to net-zero, people are also seeing their energy bills rocket. We're aiming to build a home that is operationally net-zero and self-sustaining, reducing energy bills to near zero.
"Our home in Wigan will look like its energy-efficient neighbours from the outside, but look under the hood and you'll find really innovative building methods and extensive systems to both generate energy and conserve usage.
"In the coming years, the pressure for house-builders to step up and deliver net-zero homes is only going to grow. We're making swift progress to rise to that challenge and, for us, this will be an in-depth learning exercise on which we'll base our future decisions. We're proud to be pushing the boundaries and partnering with forward-looking suppliers like Ultrapanel."
The energy performance of the house will be closely monitored, providing information that will enable both Northstone and the wider industry to make decisions on the rollout of building methods and net-zero technology.
A major part of the property's performance will be down to the use of Ultrapanel's patented panel system as the main construction method.
The precision, thin-profile panels cut down construction time, allow more space for insulation while maintaining interior floorspace, and reduce air leakage for better heat management.
Northstone has been working with the supplier for some time in preparation for construction of the first full Ultrapanel home.
John Hough, managing director at Ultrapanel, said: "Our partnership with Northstone is significant in that they, like us at Ultrapanel, are forward-thinking and innovative. Northstone's desire to create energy efficient homes with a fabric first approach aligns well with the Ultrapanel technology.
"The patented technology in our panels allows them to be used in multiple applications such as roofs, walls and floor structures and can flex to thermal and fire performance levels designed by our clients.
"The solution supplied at the Wigan site achieves an external envelope u-value of 0.09 W/m²K supplying exceptional thermal performance.
"Ultrapanel are working on national accreditations for our system and are extremely excited with the direction the current and future partnership with Northstone is going and the evolution of the Ultrapanel HAUS."