'Game-changing' technical institute spearheaded by Wigan college will open its doors to students later this year
A new multi-million-pound technical institute spearheaded by Wigan and Leigh College will open its doors to students this September.
Published 25th May 2023, 04:55 BST

- 2 min read
The Greater Manchester Institute of Technology (GMIoT) will focus on technical subjects such as science, technology, engineering, and mathematics (STEM), with the aim of developing a skilled workforce of the future.
It follows two years planning from the partners – Ada, the National College for Digital Skills; Bury College; Tameside College; University of Salford; Wigan and Leigh College; GCHQ; Laing O'Rourke; Siemens; and TalkTalk.
The GMIoT will offer a range of courses, including new Higher Technical Qualifications, Higher National Diplomas and apprenticeships, as well as digital and technical skills boot camps and short courses designed to fast track learners into jobs in growth sectors for Greater Manchester.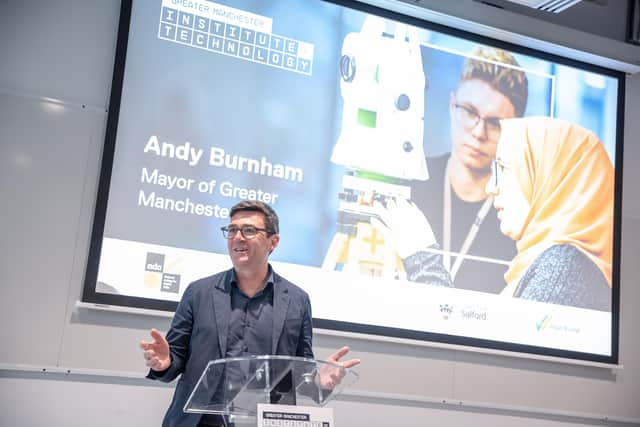 The launch of the new centre took place at the University of Salford, attended by Andy Burnham, Mayor of Greater Manchester, along with partner colleges and industrial representatives.
Partners for the Institute explained to guests why the development will be a game-changer when it comes to technical education.
Anna Dawe, Wigan and Leigh College's principal and chief executive, said: "The GMIoT will provide opportunity and raise aspiration and attainment in technical education across Greater Manchester. Its reach into boroughs such as Wigan, Bury and Tameside as well as our city centres will remove barriers to higher technical study and has the potential to be truly transformative."
Andy Burnham, Mayor of Greater Manchester, said: "University education is not strictly academic or strictly technical, it is often a blend of both when it comes to preparing people for life beyond university.
"In Greater Manchester we have the simple premise that there is a path for all in life – there is not one better path and one inferior path, there is a need to create equal paths, technical and university, to the qualifications that young people will need."
GMIoT director Claire Foreman added: "When it comes to technical education, I think as a country we have neglected it and it is fantastic that this initiative puts it back on the map for the people and the businesses of Greater Manchester.
"We're part of a network of 21 Institutes of Technology across the country and we are all charged with increasing the range and scope of technical education and ensuring there are good pathways into degrees, PhDs and work."
Institutes of Technology (IoTs) are the government's flagship programme designed to spearhead the delivery of level 4 / 5 higher technical education in STEM subjects. The first wave of 12 IoTs have already opened across the country.
Ian Turner, Talent Director at TalkTalk, added: "As employers, as the GMIoT and as a community, we collectively need to reach those underrepresented groups in society and inspire them with a vision of a career that maybe they previously felt was unachievable. As employers, we need to recruit for potential. It's not just about the here and now and the skills that we need today - technology is moving at lightspeed so we need people that can come along on that journey with us."