Heinz defends staff treatment and charity work after criticism
A major Wigan employer has strongly defended its treatment of staff and corporate policy after being accused of 'a PR stunt'
Published 15th Sep 2017, 15:57 BST

- 2 min read
Updated 15th Sep 2017, 17:00 BST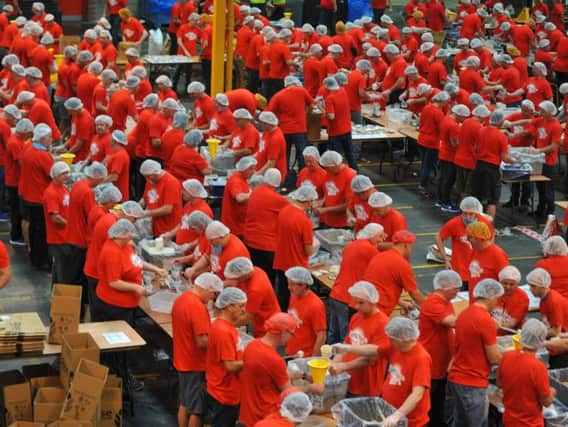 A disgruntled employee claimed Heinz's participation in a major campaign to end global hunger and malnutrition was designed to improve its image while attacking the rights of domestic workers.
He claimed staff at the Kitt Green plant had seen wage reductions, in particular with the amount of money awarded for night shifts going down.
An open letter to the food giant also alleged there had been a decline in staff on permanent contracts while numbers of workers allocated through agencies with different pay levels and conditions were on the up.
Heinz has now robustly rebutted these claims, saying unions had full participation in discussions around recent changes and there were no differences in how agency and permanent staff are treated.
A spokesman for the company said: "Temporary staff make a valuable contribution to our Kitt Green operations, such as during periods of high demand, and receive the same pay rates as permanent employees.
"Randstad, our third-party supplier, provide temporary staff based on the skills and capabilities required. Those individuals employed by Randstad on temporary contracts are fully aware of the terms and conditions of their contract and the potential variability in hours each week yet continue to choose to be employed under such terms.
"We have recently consulted over a period of 30 days with the union on a change to the night shift pattern. This resulted in full agreement with the union and those employees affected who were compensated for the change and the reduction in shift premium was also fully agreed."
Heinz also vigorously defended its involvement with charity Rise Against Hunger, which saw 800 staff joined by volunteers at the Kitt Green site to pack more than 250,000 meals in July.
The company said this was part of its commitment to deliver one billion nutritious meals to people in need by 2021.
The open letter claimed lower levels of workplace rights needed to be addressed by moves to ban zero-hours contracts and wholesale changes in attitudes towards members of the Wigan workforce.
The writer said: "The charitable donation to Africa from HJ Heinz is nothing more than a PR stunt.
"Heinz do charitable acts publicly to enhance their reputation. But simultaneously they are forcing temporary​ workers into poverty behind the scenes. I personally think this is a classic case of giving with one hand and taking with the other.
"Us Heinz workers must stand together and fight to maintain our wages. We must demand more security and insist that all agency workers are paid the same.
"We must call for an end to the use of zero-hour contracts and the ever increasing agency workforce must now decline. After over a decade many are Heinz factory workers in all but name."