Teachers at more than 50 Wigan schools will walk out this week for two more days of strikes
Dozens of schools across Wigan will be closed to some or all pupils as teachers take two days of strike action.
Published 15th Mar 2023, 04:55 BST

- 2 min read
Hundreds of thousands of members of the National Education Union (NEU) are expected to walk out of schools in England on Wednesday and Thursday in a long-running dispute over pay.
There will be picket lines outside schools in the borough, while many teachers will join demonstrations in Manchester and Wigan town centre.
As preparations are made for the industrial action, Wigan Council has revealed how many schools are expected to be affected.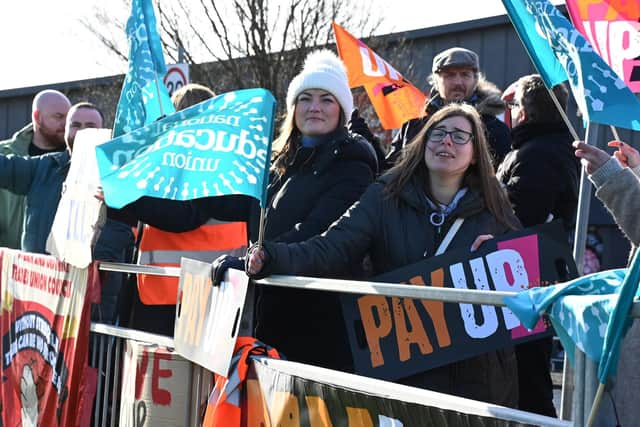 Just one school – St William's Catholic Primary – will be shut to all children on Wednesday, but a further 54 primary, secondary and special schools will be partially closed.
St Thomas' Primary in Golborne will be the only school completely closed on Thursday, while 23 other schools have so far confirmed they will be partially shut.
The two days of strike action mark the latest phase in the dispute between education workers and the Government.
Education Secretary Gillian Keegan has invited unions representing teachers and school leaders to formal talks if they suspend the walk-outs.
In an open letter to parents, she said: "The single best thing the NEU could do for both its members and for children and young people would be to sit down and talk about pay.
"I will continue doing everything I can to end the disruption your family is facing as quickly as possible, particularly because I know exams for older pupils are coming up fast."
But the NEU has refused to suspend strike action until Ms Keegan makes a pay offer.
Mary Bousted, joint general secretary, said: "The NEU regrets the inconvenience caused to parents, children and young people by strike action. The responsibility for this lies squarely with the Education Secretary.
"The NEU has said time and again we will meet for talks. As in Wales and Scotland, strike action was paused when a serious offer was made and members were consulted on it. No preconditions were thought necessary by Scotland or Wales and as a result progress has been made.
"Gillian Keegan's digging in of heels, and refusal to engage through Acas, has meant that England yet again lags behind other countries."