Wigan borough youngsters taught how to treat stab wounds
"A child can die in five minutes from blood loss."
Published 4th May 2023, 04:55 BST

- 3 min read
That is the message being taught Wigan borough youngsters as part of bid to make them potential life-savers.
Greater Manchester's knife crime pandemic is a catalyst for teaching children to deal with stab wounds and catastrophic injuries, a former firefighter says.
Pupils of St Mary's RC High school in Astley took part in a pilot scheme to save lives. The Stop the Bleed project has been created by a West Midlands based charity.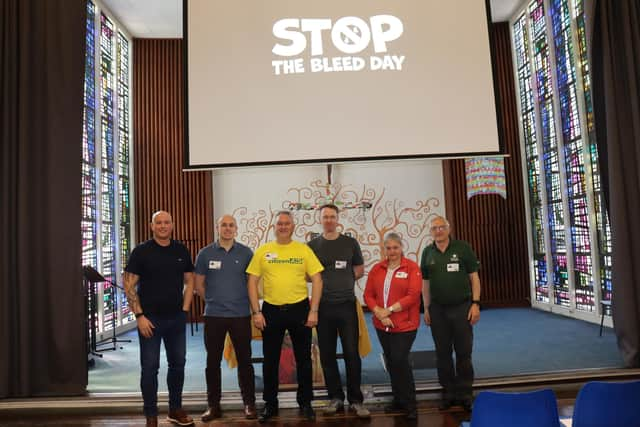 Citizen Aid aims to teach schoolchildren how to manage and treat severe and catastrophic bleeding.
Bleeding is a major cause of death at road traffic incidents, knife crime, explosions like that seen at the Manchester Arena attack or other accidents in the wider environment, Wigan councillor and former fire commander John Harding explained.
"We need to teach people to understand not to carry knives but if they do come across those with knife wounds they can act quickly and effectively," Coun Harding said. "It is sad they have to learn this as a result of the increase in stabbings in the region.
"As a child, you can die in five minutes from blood loss as they only have 2.5 litres of blood compared to 5 litres in an adult. Losing half a can of pops worth of blood can be life threatening to a child.
"Sadly we keep seeing knife crime happening across the country. There are other agencies that need to help where they can with this as well.
"The students were shocked by the amount of knife crime that goes on in Greater Manchester, especially in that 12 month period last year where we saw more than 50 incidents. It was effectively someone being stabbed every week.
"Police and GMCA are doing something about it with this through the Greater Manchester Violence Reduction Unit.
"A child can die in five minutes from blood loss and it could take an ambulance six minutes to get there. Shrapnel from bombs, blast injuries can lead to catastrophic bleeding.
"Just doing mouth to mouth when they're bleeding out will mean your casualty won't survive."
Around 20 serious stabbing incidents ave been reported since the beginning of the year. Police say things are improving, but admit there's 'much more' to be done.
The Stop the Bleed project by the region's violence reduction unit (VRU), could be rolled out to secondary schools across the country next year. The skills learned, bosses say, can also help kids deal with accidental injuries, car crash victims and animal attacks.
The sessions run at St Mary's High were delivered to groups of sixty year seven pupils by six volunteers resulting in 268 schoolchildren from the school receiving the life-saving training. Children learned how to put pressure on stab wounds, pack them to reduce bleeding, and even carry out the Tourniquet technique.
The pilot scheme was delivered at 14 schools across Greater Manchester, and once the outcomes are fully evaluated, it is expected to be delivered across the whole country from 2024 with up to 250,000 pupils receiving the training input on the same day.
Delivering the project represents the culmination of two years of work done by Coun Harding, who liaised with trustees and the operational manager of Citizen Aid and contacted senior medical and police staff at the Greater Manchester Violence Reduction Unit to facilitate a joint meeting.
As a result of that meeting Citizen Aid and GMVRU has developed a training video and lesson package which volunteers deliver in schools.
Coun Harding was one of the six volunteers, including three military staff, one firefighter and one private company first aid trainer who delivered the training at St. Mary's.
"This training will undoubtedly save lives," he added. "Young people are our future and having well trained members of the public in our community will ensure casualties receive rapid and correct interventions prior to the arrival of emergency services. The training also gives our young people the confidence to intervene whilst ensuring their own and others safety.
"It was a pleasure to be able to volunteer and deliver the first ever sessions of 'Stop the Bleed. The pupils and staff at St. Mary's were amazing and I would like to thank them all."