Wigan care home boss reveals efforts of her team to care for residents during pandemic
A care home boss believes time is needed to honour our "precious" elderly residents and learn lessons from the coronavirus pandemic.
Wednesday, 24th March 2021, 7:00 am
Katy Grindley, deputy manager at Worthington Lake care home in Standish, worked 100 hours per week when the outbreak began last year to ensure her staff and residents were safe.
Her dedication led to her being shortlisted for the Covid Hero Award in the Great British Care Awards for the north of England, while her staff are finalists for the Care Team of the Year Award.
Katy said: "The pandemic has had such an impact. It has been unprecedented. We need to remember it because we need to remember the mistakes and learn lessons. We need to remember our ageing population is precious to us and we wouldn't be here today without the sacrifices they made in their lives. It's about treasuring them and having more understanding of the impact on people in care homes."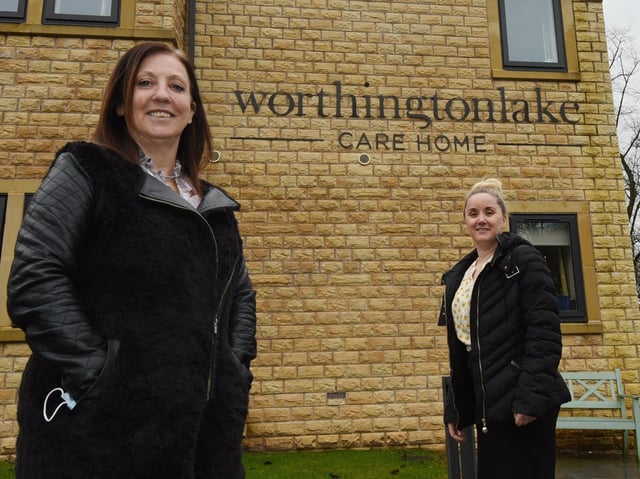 Manager Kim Jones and deputy manager Katy Grindley
Katy said: "We have heard a lot about NHS staff, but not care staff, and we were doing exactly the same but didn't get the same recognition in the early stages. For me, who sacrificed a lot and worked my fingers to the bone, it was frustrating."
She described the beginning of the pandemic as "very stressful and very challenging" and said she needed to draw on "every ounce of knowledge and experience" from working in care for 20 years.
There was no manager in post at the time, so Katy was leading the home as well as managing community beds for hospital patients.
She said: "When it started in March last year it was hard for everyone. There were a couple of weeks where I worked over 100 hours and it was 15-hour days. I was working practically seven days a week because even when I wasn't working, I was getting phone calls day and night about situations in the home."
Katy said the team pulled together" and a "very low" number of residents died from coronavirus.
The infection has been kept out of the home since the first wave of the pandemic and there have been no positive results since testing of staff began in May.
As well as preventing the spread of Covid-19, Katy was pleased to say that the elderly residents have not become withdrawn or seen their health deteriorate due to the restrictions, as has been reported in homes elsewhere.
Instead, they have remained engaged by taking part in activities in the home and seeing their loved ones in a safe visitation lodge, which was one of the first in the country.
She said: "We felt it was better to maintain life as normal as much as we could, but if we had any suspicion of an outbreak or anything like that - which we didn't - we would put measures in place."
Face-to-face visits have now started, after changes to Government guidance, and the future looks brighter as staff and residents get vaccinated.
Katy said: "All the residents have been vaccinated and the second round of vaccinations will be happening soon, I'm just waiting for a date. Ninety per cent of the staff team have had the first vaccine as well."
Thanks for reading. If you value what we do and are able to support us, a digital subscription is just £1 for your first month. Try us today by clicking here