Wigan mum's fear of unlicensed Covid-19 jab
A mum inspired by her son to campaign for children adversely affected by vaccines has raised concerns about plans to potentially roll out an unlicensed coronavirus jab.
By Gaynor Clarke
Published 14th Sep 2020, 10:44 BST- 2 min read
Updated 14th Sep 2020, 10:50 BST
Watch more of our videos on Shots!
and live on Freeview channel 276
Visit Shots! now
It states that "unlicensed" does not mean "untested" and there may be public health reasons for doing this, rather than waiting for it to be licensed as medications normally would be.
But Jackie Fletcher, from Golborne, is worried about the impact of an unlicensed vaccination being used.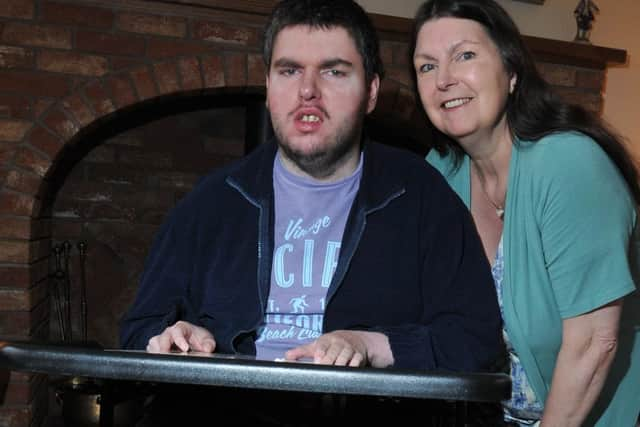 Her son Robert was awarded a vaccine damage payment from the Government after the MMR jab left him severely disabled and she co-founded JABS (Justice, Awareness & Basic Support), a group for parents of vaccine-damaged children.
Mrs Fletcher believes there is "no compelling case" for the vaccine to be used before it is licensed and that "natural life-long herd immunity" would be more effective than the "short-term protection" the jab may provide.
In a response to the consultation, she said: "In my opinion, there is no compelling case, on public health grounds, for using a vaccine before it is given a product licence.
"In the late '90s single antigen rubella vaccines and single antigen mumps vaccines became unlicensed although they had been available for use in the NHS since 1970 and 1972 respectively and ran alongside the MMR vaccines for anyone who declined the combined vaccines.
"Doctors and health professionals were warned not to give these now unlicensed vaccines, even though there was a huge demand for them from parents and had a history of use for over 25 years.
"Now it is being proposed that brand new Covid-19 vaccines, with no track record of use, that we are led to believe only became a concept a few months ago, should be considered for use before a product licence is sanctioned."
She raised concerns about proposals to give both the Covid-19 and flu vaccines at the same time, even though trials have not covered the impact of this on patients, the issue of informed consent and provision for people who suffer harm or die due to the inoculation.
Mrs Fletcher said: "In the haste to speed up and implement vaccines for children and adults under the guise of emergency measures, caution is being thrown to the wind.
"People have a right to make informed consent. Doctors and anyone else authorised to vaccinate the public have a duty to facilitate this right under international agreements, conventions and European and British law."
The Wigan Post contacted the Department of Health and Social Care but they declined to comment.
More information about the consultation, which runs until Friday,September 18, can be found at www.gov.uk/government/consultations/distributing-vaccines-and-treatments-for-covid-19-and-flu/consultation-document-changes-to-human-medicine-regulations-to-support-the-rollout-of-covid-19-vaccines