Coroner finds shortcomings in care of previously fit and healthy Wigan man whose life was ruined by drugs
A coroner said there were a series of major shortcomings in the care of a mentally ill Wigan man who was found dead in the Leeds-Liverpool canal, nearly a month after he was reported missing.
By Alan Weston
Published 22nd Mar 2023, 16:39 BST- 3 min read
Updated 22nd Mar 2023, 16:39 BST
Watch more of our videos on Shots!
and live on Freeview channel 276
Visit Shots! now
Peter Curphey had just turned 44 when he was found in a shallow part of a Wigan canal on April 11 last year.
He had been a fit and healthy youngster, and had played rugby for Wigan Boys at Wembley in 1989, but he later "fell in with the wrong crowd" and his lifestyle began to deteriorate.
He had a long history of mental illness and petty crime as a result of abusing recreational drugs - including heroin and crack cocaine - which led to a diagnosis of paranoid schizophrenia.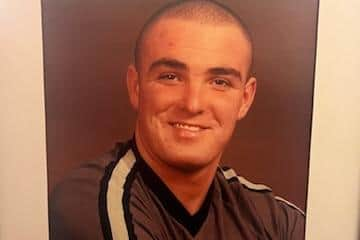 Although he was living in his own flat and was receiving round-the-clock care from his mum, Deborah Mercer, his behaviour was becoming increasingly violent and unpredictable, to the extent that Mrs Mercer became frightened of him and her own health began to suffer.
Mr Curphey's family told the two-day inquest at Bolton Coroner's Court they had tried to get him sectioned under the Mental Health Act for his own good, but said that the authorities had let them down.
He was admitted as a voluntary inpatient at Atherleigh Park Hospital in Leigh, but the staff there had no powers to detain him and he could effectively come and go as he pleased.
He was discharged early in January 2022, and a month later he self-presented at the A&E department at Wigan Infirmary, saying he was struggling with his mental health and threatening to take his own life.
Although the coroner, Timothy Brennan, ruled there had been no serious failings in Mr Curphey's care which would have prevented his death, he found there had been a series of shortcomings.
These included a lack of contact with the family, no up-to-date care plan, and no evidence of "meaningful professional curiosity."
In his narrative conclusion, Mr Brennan said these shortcomings were "unlikely to have made a material difference" in terms of Mr Curphey's death.
The last sighting of him was on CCTV footage in the early hours of the morning, where he was seen staggering "in a zombie-like state" in the direction of the canal where his body was eventually recovered. This, the inquest heard, suggested he was profoundly under the influence of drugs at the time.
His post mortem revealed evidence of a cocktail of drugs in his system, including morphine (most likely illicit street heroin), cocaine and cannabis.
Mr Brennan concluded: "Peter James Curphey died as the consequence of drowning having fallen into a canal in circumstances where the precise location and means in which he fell into the water cannot be established, but on balance were not intentional, and arose in the context of him being under the influence of his self-induced intoxication at the time of his death."
At the end of the inquest, his mum Deborah, 67, from Billinge, said: "We still feel let down and that more could have been done. Peter should have been admitted to a secure unit, not left to wander the streets.
"He was a very dynamic personality, and was an incredibly fit, healthy person. Even with his condition, he was still strong.
"It really is a tragedy and a waste of a life. It's a lesson of what drugs can do to people. He thought he was invincible, and he wasn't."