'Running has helped me get my life back'
Just 12 months ago Neil Crook was battling severe depression and anxiety, having suicidal thoughts and drinking too much alcohol.
Published 11th Mar 2020, 08:00 BST

- 2 min read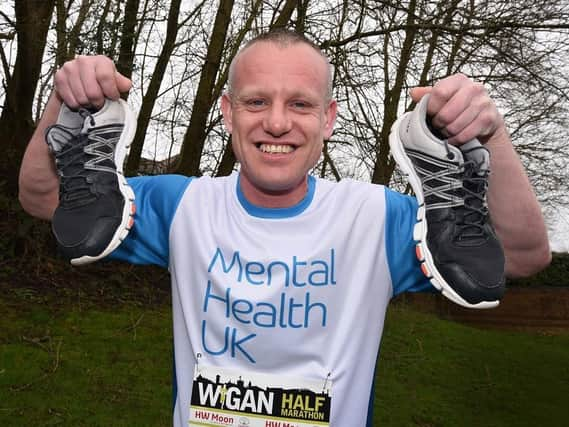 His marriage and another relationship had broken down and he admits he was in a "downward spiral".
But fortunately the 40-year-old decided to seek help and has already made massive progress in turning his life around.
He is now taking on a big physical challenge to push himself and raise money for a charity supporting others with mental illness.
Neil, who lives in Ince, became a member of Robin Park Runners during his recovery, in a bid to get out of the house.
With their support, he will take part in the half marathon at Run Wigan Festival on Sunday, March 22 and hopes to collect hundreds of pounds for Mental Health UK.
He said: "Initially, the thought of joining the running group was extremely nerve-wracking, but I was determined and found myself surrounded by a welcoming and supportive group of people. Since then, I never looked back!
"Not only have I achieved things like running the Wigan 10k and the Windmill 10k, I have also made some fantastic, life-long friends in the process. I don't know where I would be now without this group.
"The Mental Health UK charity is extremely close to my heart, and despite the half marathon being my biggest challenge yet, I know it will all be worth it."
Neil, who started running in April, decided to share his story to help other people in similar situations.
The dad-of-one said: "Following the breakdown of my marriage I struggled with mental health issues, that worsened when I rushed straight into another relationship and began heavily drinking until, eventually, this relationship broke down too.
"I found myself in a downward spiral, but with the help of the Wigan and Leigh mental health team I began working towards my recovery."
Neil says his mental health deteriorated so much that he was almost sectioned at one point. Instead, he was treated by the crisis team, seeing a mental health worker every day and receiving medication.
He works as a catering assistant at Wigan Infirmary and also received support from the management team, which helped him to sign up for Wrightington, Wigan and Leigh NHS Foundation Trust's Steps 4 Mindful Living course.
He has been asked to share his experiences by giving a talk to the trust board later this month, alongside former Wigan Warriors player Danny Sculthorpe, who has spoken openly about his battles with mental illness.
Neil said: "All of the help I've received through work has been incredibly beneficial, and I am pleased to say I am no longer on medication and look to the future with a positive and enthusiastic mindset."