Wigan healthcare workers urged to get flu jab to protect themselves and patients
Healthcare workers across the borough have been told it is more important than ever to get the flu jab this winter.
Published 22nd Sep 2020, 07:00 BST

- 4 min read
Watch more of our videos on Shots!
and live on Freeview channel 276
Visit Shots! now
As the first vaccine deliveries start to reach employers this week, NHS bosses in Wigan and nationally have spoken out to urge people to protect themselves and others.
This year there is an expanded flu vaccination programme for both the public and frontline health and social care workers, with a record 30m people eligible for a free jab.
Frontline staff are at higher risk of catching flu due to their contact with patients, while this year they also face the ongoing coronavirus pandemic.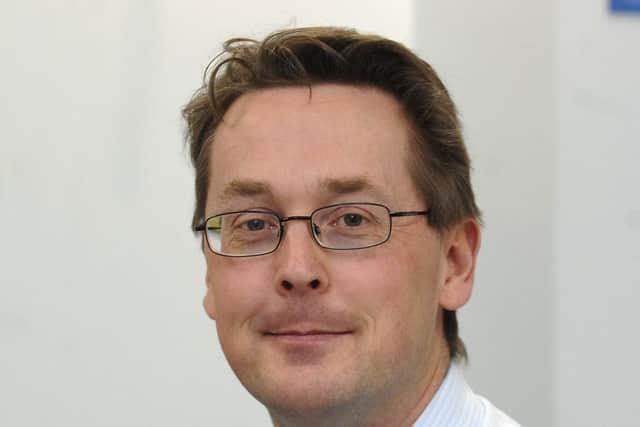 Dr Tim Dalton, a GP and chairman of NHS Wigan Borough CCG, said: "Let's be honest: we really don't want both flu and Covid-19 circulating around our community, care homes, GP practices or hospitals this winter. That is why it is even more vital this year that health and social care workers get their flu vaccination. By getting vaccinated, they are protecting themselves, protecting the people they look after and helping the NHS.
"I can't stress it enough: if you do work in health and social care and you are offered a free flu vaccination, assuming it is not medically inappropriate, please get vaccinated."
Overall, a record 74.3 per cent of doctors, nurses, midwives, therapists and all NHS staff who have direct contact with patients took up the vaccine through their employer last year, with most local NHS employers achieving 75 per cent or higher.
At Wrightington, Wigan and Leigh Teaching Hospitals NHS Foundation Trust (WWL), 72.4 per cent of frontline healthcare workers had the jab, with 72.2 per cent of staff within NHS England North West (Greater Manchester) being vaccinated.
Helen Richardson, chief nurse at WWL, said: "The flu has a serious impact on the health of thousands of people every winter and, with the added risk of Covid-19 this year, the NHS needs as many of its staff as possible to be protected by receiving the flu vaccine over the coming months.
"WWL is encouraging its staff to have the seasonal flu vaccination to protect themselves and their patients. As healthcare workers we have a duty to ensure that we protect ourselves from the virus and must always remember that quite a number of people can be at risk of becoming seriously ill should they catch the flu.
"Many people believe that the flu vaccination can give you flu – this is untrue. This is impossible as the vaccine does not contain any live viruses and most people experience no side effects whatsoever."
Hospitals and other NHS organisations are starting to run drop-in clinics and promotional activity to encourage eligible staff to get the jab.
This year frontline social care workers can get a free flu vaccination from a GP or pharmacy, while pharmacists can deliver the vaccination to residential care staff where they work.
Staff who get flu require time off work, putting pressure on services at what can be the busiest time of the year. Research suggests that a 10 per cent increase in NHS staff vaccination reduces sickness absence by about 10 per cent.
However, some infections only result in mild or unnoticeable symptoms, meaning staff can unknowingly pass the virus to vulnerable people they come into contact with.
Ruth May, chief nursing officer for England, has penned an open letter alongside the NHS's most senior clinicians to more than a million frontline staff imploring them to help protect themselves and the vulnerable patients they might come into contact with from flu.
She said: "Every year we urge our colleagues to protect themselves, their families and their patients by taking up the free flu jab and every year more and more do - but this year's call is the most vital we have ever made.
"The flu has a serious impact on the health of thousands of people every winter, and with the added risk of Covid-19 this year the NHS needs as many of its staff as possible to be fighting fit over the coming months.
"And even more importantly, just as we are making every effort to stop the spread of coronavirus in our hospitals, so we must also do the same for flu. Getting a vaccine is the single most effective way every member of our staff can contribute to this."
Prof Yvonne Doyle, medical director at Public Health England, said: "If you're a frontline health or care professional, getting your flu jab is the most effective way to protect yourself and those you care for from what can be a serious and even fatal illness.
"This year, it is more important than ever to get your flu jab with Covid-19 still in circulation. Flu can require hospitalisation, which would add pressure on the NHS and social care when they may also be dealing with cases of Covid-19.
"Getting your flu jab is easy and takes just a few minutes, but it could save someone's life."