Wigan patients told to only use A&E or call 999 in limb or life-threatening emergency as nurses and ambulance staff go on strike
Wigan's chief nurse says there are "robust plans in place" to care for patients as staff take industrial action.
Published 6th Feb 2023, 09:13 BST

- 2 min read
Members of the Royal College of Nursing are on strike at hospitals around the country on Monday and Tuesday, including those run by Wrightington, Wigan and Leigh Teaching Hospitals NHS Foundation Trust (WWL).
It coincides with staff at North West Ambulance Service (NWAS) taking strike action in their pay dispute.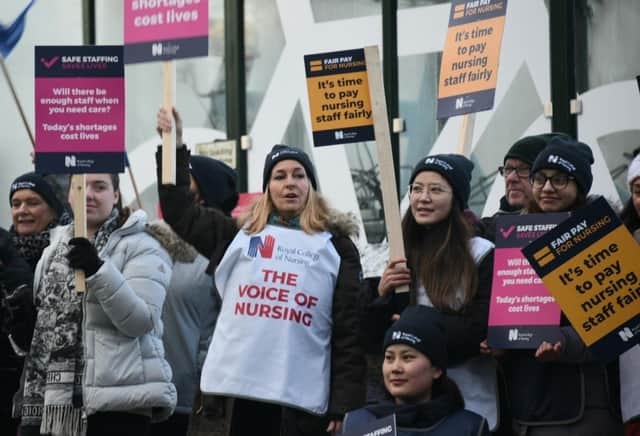 WWL's chief nurse Rabina Tindale said: "We fully respect the rights of union members to take part in industrial action recommended by their trade union, and, just like previous days of industrial action, patient safety will continue to remain our top priority.
"While some services will be disrupted by the strike action, we have a great number of staff who will continue to help run key areas, such as our A&E, maternity, ICU and cancer services, who must be thanked for maintaining theses services under immense pressure.
"WWL will continue to work with our partner organisations within the Wigan borough and Greater Manchester to ensure the least amount of disruption to our services as possible, but we must ask the public for their help once more, by choosing the most appropriate services available to them, and by avoiding our emergency department in Wigan unless it is for a life or limb-threatening emergency."
Ms Tindale added: "We would also encourage our community to help us by being on hand to collect loved ones as soon as they're well enough to return to their normal place of residence."
Patients with appointments today and tomorrow are asked to attend as normal, unless they are contacted to advise otherwise.
While the opening hours at the urgent treatment centres in Wigan and Leigh were reduced last month during industrial action, they will be open as usual this time.
NWAS also urged people to only seek emergency care in life or limb-threatening circumstances and warned they could be asked to make their own way to hospital, such as by taxi, if an ambulance is not available.
A spokesman said: "Our 999 call handlers are very busy today during strike action. Our NHS 111 call centres also have fewer staff which means our response times for people calling are longer. We want you to continue to ring 999 in a situation where there is a life-threatening injury or illness. However, we are urging anyone with non-urgent care needs to please first seek help from NHS 111 online.
"If you have already called 999 to request an ambulance, please only call back if your condition has worsened or to cancel the ambulance. Repeatedly calling 999 can block phone lines for other emergencies."