Mazda MX-30 review - leading the charge of the light brigade
Mazda has sacrificed range for efficiency and driveability in its first EV
Published 31st Mar 2021, 13:00 BST

- 5 min read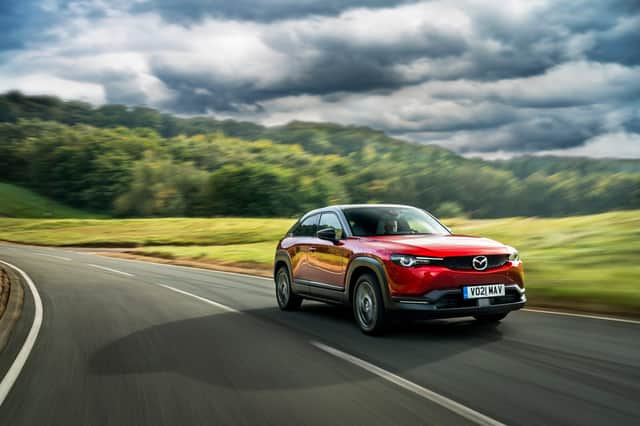 Like many brands over the years, Mazda has dabbled in electric vehicles, running various battery-powered test mules since as early as the 1970s. But the MX-30 you see here is the first Mazda EV to make it to production and arrives just as the market is swinging heavily in the direction of battery power.
Built on brand-new architecture, it's a crossover SUV, similar in size to the brand's petrol powered CX-30 or the Kia e-Niro and a touch larger than rivals like the Peugeot e-2008, Ford Puma and Hyundai Kona Electric.
It sticks to the brand's winning Kodo design, being distinctive without appearing to try too hard. The "face" is recognisably Mazda and a few simple lines sketch out its shape without unnecessary embellishment. Its most distinctive features, in fact, are the boxy wheel arches and radical handle-less read-hinged back doors which blend in to give the MX-30 that ever-so-popular coupe-like silhouette.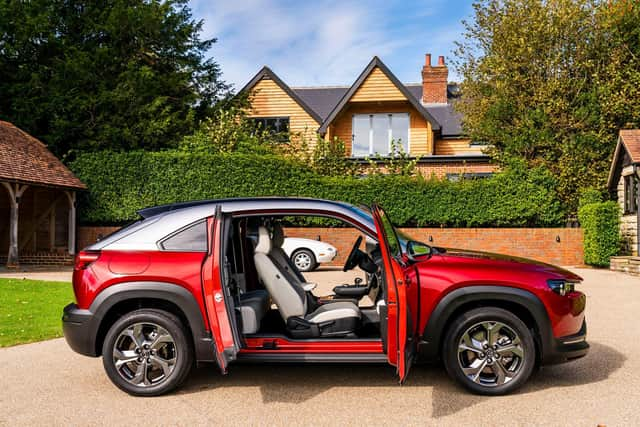 Under the pretty metal, the new platform supports a single 143bhp electric motor driving the front wheels and supplied with its energy by a 35.5kWh battery sandwiched in the floor.
One of the first things you notice when you look at the technical specs of the CX-30 is that battery size and its official range. At 124 miles WLTP it's even less than EV superminis like the Honda e or Mini Electric, and significantly lower than other electric B-SUVs such as the Peugeot e-2008 (206 miles) 39kWh Hyundai Kona (189) or MG ZS EV (163).
Mazda has a clear argument in favour of its relatively small battery, centred on cost and efficiency. It says that in terms of production, charging and eventual recycling, cars with smaller batteries produce less CO2 than those with larger batteries.
Smaller batteries are also lighter, meaning the motor is dragging less weight around, so can work more efficiently. That lightness also has benefits when it comes to the driving experience, more of which later.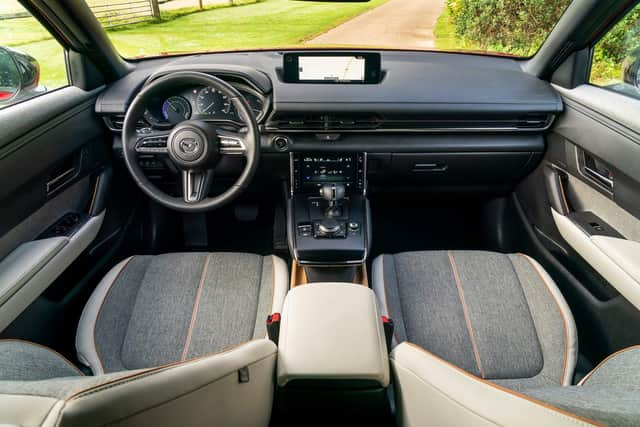 From an owner's point of view, service data shows the average Mazda driver covers just 26 miles a day, well within the car's range. Finally, a smaller battery means shorter charging times 20-80 per cent in 36 minutes - although, of course it does mean more frequent charges.
The reasoning is sound but it means the MX-30 has a more limited audience than rivals with bigger batteries. Considering it alongside the similarly priced Renault Zoe, for example, you'll get twice the range from the Renault and for some drivers that will matter.
Range is only part of the equation when it comes to EVs, more relevant to real life is the miles per kWh figure. Mazda says the MX-30's consumption is 3.2 miles/kWh but like all cars it's affected by conditions and driving style. Our rural test route on a cold March morning saw an average of 2.5miles/kWh - not quite a match for the 2.8m/kWh from the e-2008 we've also driven recently.
Whatever range the battery offers, it delivers its power to a 143bhp motor driving the front wheels. Like all EVs, its 200lb ft of torque can all be delivered instantly, giving the MX-30 an immediacy from 0-30mph. That immediacy dies off a bit, with 0-62mph taking nearly 10 seconds, but it feels quick enough when you need a burst of overtaking acceleration. Regenerative braking helps recoup energy as you slow and can be easily adjusted using gearshift-style paddles sensibly positioned behind the steering wheel.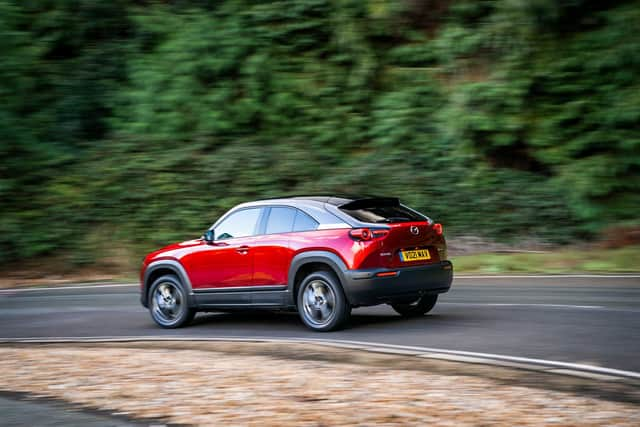 One of Mazda's stated aims for the MX-30 was to make it fun to drive. These things are all relative - the Ford Puma aside, there are very few truly fun-to-drive crossovers - but the MX-30 does a better job than most. True, you'll never mistake it for an MX-5 but the battery weight saving is apparent in the swift and precise way the MX-30 moves. There's some body lean but the car's low centre of gravity keeps this mostly in check and the MX-30 feels relatively compact, light and agile if you find a B road to thread it down. There are no switchable driving modes that mess with throttle response or steering weight, instead there are well balanced controls and G-vectoring control plus, which applies miniscule braking or throttle inputs to maximise cornering grip.
More striking than its nimbleness, though, is the MX-30's excellent ride, which soaks up the worst the our crater-strewn A-roads and city streets can throw at it. This balanced against its decent driving manners puts the MX-30 ahead of most other B-SUVs, battery powered or otherwise.
Mazda's mission to make its cars more environmentally friendly extends beyond the drivetrain to the interior where surfaces are finished with artificial leather, fabric made from recycled plastic and cork off-cuts from bottle stopper manufacturing. These materials all look and feel modern and fresh and lend some brightness to the cabin, which makes the large swathe of black plastic on the centre console even more disappointing. The console houses a traditional-looking gear selector, the user-friendly scroll wheel and shortcut buttons for the infotainment screen, and a large and largely unnecessary touchscreen for the heating controls, flanked by physical buttons for most of its functions.
For front seat passengers the MX-30 is a pleasant place to be, with comfortable seats finished in part-woven, part-faux leather materials, decent space and good visibility. In the back, though, it's not such great news. Access is easy thanks to the MX-30's rear-hinged back doors - a la RX-8 - but legroom is tight and the combination of incredibly thick pillars and tiny windows makes it feel dark and claustrophobic. That big pillar/small window combination is also bad news for the driver's rearward visibility at junctions.
Prices for the MX-30 range start at £25,545 for the SE-L Lux trim after the government plug-in car grant rising to £29,845 for the range-topping GT Sport Tech, which is expected to be the best-seller.
All cars feature the same motor/battery combination and get LED headlights, a head-up display, reversing camera, all-round parking sensors and an 8.8-inch media/navigation screen with smartphone mirroring. Radar cruise control, lane keep assist, autonomous emergency braking with turn across traffic alert and blind spot monitoring are also standard. A £2,000 step up to Sport Lux adds electrically adjustable heated seats, keyless entry and tinted glass while the bigger step to the GT Sport Tech brings more goodies such as adaptive LED headlights, a 12-speaker Bose stereo, a heated steering wheel, sunroof and smart reversing brake support. For orders placed before the end of March, Mazda will also throw in a free home charging unit.
The pricing makes the MX-30 markedly cheaper than other similar sized cars such as the Kia e-Niro, Peugeot e-2008 and Hyundai Kona but that reflects the smaller battery and shorter range.
And that could prove to be a sticking point for some buyers. For all that Mazda argues that the 124-mile range is enough for most users most of the time, the bigger-is-better message is still the prevailing one when it comes to EV range and it could be a hard one to break through.
Mazda MX-30 GT Sport Tech
Price: £29,845 after PiCG (£31,845 as tested); Motor: AC synchronous electric motor; Power: 143bhp; Torque: 200lb ft; Top speed: 87mph; 0-62mph: 9.7 seconds; Battery: 35.5kWh; WLTP range: 124 miles; WLTP power consumption: 3.27 miles per kWh; Max charge rate: 50kW