Booming firm returns to its roots
A booming vehicle hire firm is 'coming home' as it enjoys further expansion.
Published 15th Sep 2017, 15:57 BST

- 2 min read
Updated 15th Sep 2017, 16:00 BST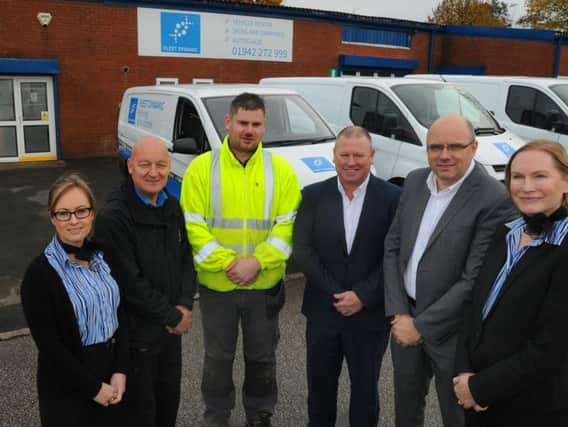 Back in 2009 Fleet Dynamic was launched from Peter and Christina Rimmer's house, but in the intervening years the business has enjoyed remarkable growth to the point that it now employs 27 staff, is looking to take on more, and has over 1,000 vans and cars to lend out.
And the latest phase of its development sees the opening of a new "super-site" at the Martland Park industrial estate. Work is under way to convert what used to be Wigan Council's integrated community equipment service base which has now moved to Ince.
When the Martland Park facility opens in a few weeks, it will see staff move over from Fleet Dynamic's premises at Hawkley Brook and it will also become company HQ. That function has in recent years been fulfilled by their second base at St Helens.
Bosses say that they went over the border because, at the time, they could not find any suitable premises within Wigan borough as they expanded.
Christina, the firm's finance and HR director, said: "It is nice that we are finally able to 'come home' to Wigan.
"Someone who Peter worked with owned the building and was looking to sell the land; then it became a different proposition because the council was looking to move to Ince and so we bought both the land and building.
"We are staying in St Helens but moving from Hawkley Brook to Martland Park."
Christina said it hadn't escaped their notice that they are moving next door to a soon-to-open Holiday Inn Express and have already been in touch with bosses. Fleet Dynamic predominantly has business to business arrangements but also does self-drive (hiring directly to the public).
She said that the firm's ultimate aim was to have satellite bases dotted all over the country. In the meantime they were looking to take on apprentices at the new HQ.
The council's integrated community equipment service moved to the Makerfield depot two months ago and loans out 50,000 items a year, including specialist beds, mattresses, commodes and a host of aids for daily living to people with various health issues or disabilities. Most of it is delivered by the service or distributed via health and social care professionals. The service also collects equipment once it is no longer required.
But if people are still in possession of equipment they no longer need they are encouraged to drop it off at Makerfield Depot, Makerfield Way, Ince, Wigan WN2 2PR or call 01942 486411.