Wigan's high profile cop chief announces retirement days after receiving King's Policing Medal
Wigan's police commander is hanging up her truncheon, saying she can't top getting a gong from the King.
Watch more of our videos on Shots! 
and live on Freeview channel 276
Visit Shots! now
Chief Supt Emily Higham will spend her last day in uniform next month patrolling the streets of Wigan – just like she did at the outset of her career 31 years earlier.
During the intervening decades she has risen through the ranks to become a highly praised senior officer whose no-nonsense approach to tackling serious and organised crime earned her the cheeky yet respectful nickname of "Dirty Harriet."
That career came full circle when Norley-born Chief Supt Higham was put in charge of policing Wigan two years ago and since then has overseen a number of dramatic performance improvements which she in part puts down to improving relations with the public to the point that they are far more likely to tip off the police about criminal activity.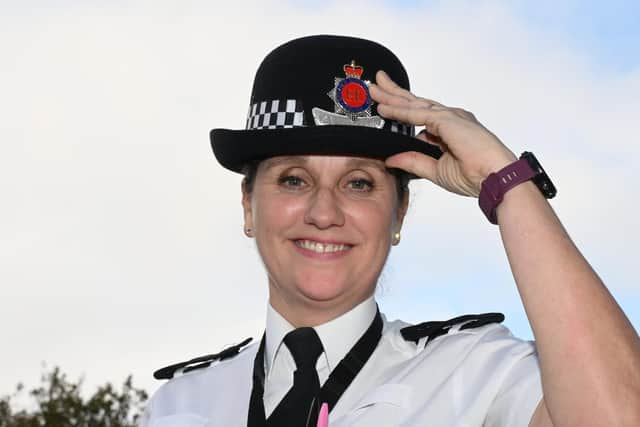 As a result there has been a big upsurge in arrests, crackdowns on prolific offenders and crime hotspots and a 51 per cent fall in the number of anti-social behaviour reports, the last of which she is quick to point out has very much been achieved through partnerships with other agencies.
Her reign has also coincided with Greater Manchester Police coming out of special measures and one of the biggest recruitment drives in the force's history, meaning "Boris's bobbies" have given her and other borough commanders greater scope.
But her hands-on approach, strategies and galvanisation of a hitherto despondent workforce (on account of the special measures) have not been overlooked by her peers, hence her visit to Buckingham Palace earlier this month to accept a King's Police Medal from Charles III. It's the highest police accolade and is awarded for gallantry or distinguished service.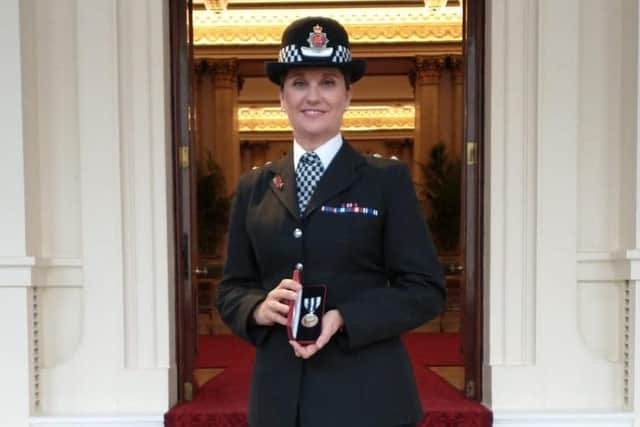 Mother of two Chief Supt Higham said: "I have done 31 years in the police and there comes a point when you know you're ready to go. Thirty years is a long time and I want to spend some time with my family and be a mum. I was on holiday with my family in the summer and I saw how the kids were growing up before my eyes. You can only drop them off at breakfast club and pick them up from after-school club for so long; and my parents, sadly, aren't getting any younger.
"Getting the King's Police Medal has been the pinnacle of my career. That's not going to be topped, I don't want to go any higher in the force and I've achieved a lot. The only way is down, policing never finishes so time to go.
"I don't think I've done bad for a girl from Norley."
Asked what improvements she was most proud of, Chief Supt Higham included faster response times, executing more warrants and Wigan gaining "Purple Flag Status" for town centre safety (another accolade she attributes to multi-agency work).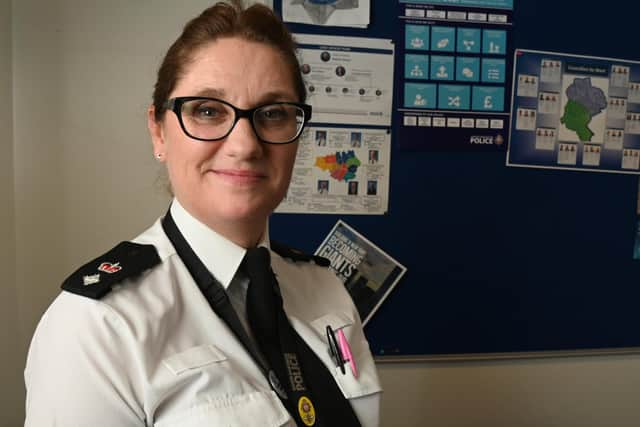 She added: "When I came back to Wigan from regional organised crime, we were in special measures, we were not answering the phone or responding to the crimes or the public quickly enough nor engaging as much as we should because of demands. A lot of staff were fragile and morale was low.
"Then came Boris's bobbies and it was exciting to see all these new recruits arriving. We are now in a really good, healthy place.
"But with that you still need to know your priorities and make sure officers know them too, especially responders.
"Meanwhile the neighbourhood role is about working with partners, identifying repeat offenders or locations and problem-solving. Operation Bluefin has brought about a 51 per cent reduction in anti-social behaviour reports in two years and that has involved the police working alongside youth workers, Wigan and Leigh's youth zones, Wigan Athletic Community Trust and other agencies that work with children to keep them away from criminality.
"Public confidence in us was low but now we are being inundated with intelligence. This really is a Be in the Loop community with the highest number of Home Watch members anywhere in Greater Manchester; there's Pub Watch and there are good relations with councillors. This all helps to make Wigan a better place."
Some of Chief Supt Higham's career highlights came up in conversation with King Charles at Buckingham Palace but also her love of steam trains, reminding His Majesty that he had once met her dad on a visit to Bury with Queen Elizabeth.
She added: "The day was so special, all the more so because my mum, dad, husband and kids were all there to see it. Absolutely magical."
Chief Supt Higham's last day is December 8, after which she has no immediate plans other than to relax with her family for a couple of months.
But she said: "I will do something eventually because I've still got petrol in the tank. And there are leisure things I'd like to do too like travel the world (Everest base camp is certainly on the Bucket List), take up painting and join a gym!"
The new commander will be her current deputy Supt Ian Jones.
Chief Supt Higham said: "Ian has been with us for 12 months now, is really keen and knows the patch and will continue the same trajectory as mine. Wigan is in safe hands.
"There have been things I have seen in this job that I wouldn't wish on my worst enemy but for the vast majority of the time the jo has been wonderful. Anyone thinking of joining the police I would highly urge them to do so. It is exciting, fulfilling, never dull and no two days are the same.
"I always tell new officers that they have a superpower called a warrant card which gives them the power to arrest and make lives safer for others.
"I know I'll miss the job and especially the fabulous people I have worked with, but it'll probably only hit me a while afterwards that it's finally over."