Wigan's Week In Court
A Wigan dealer found with more than £1,000 worth of illegal substances secreted in both his flat and trousers has been jailed.
Published 6th Nov 2020, 10:15 BST

- 9 min read
Updated 6th Nov 2020, 10:16 BST
Watch more of our videos on Shots!
and live on Freeview channel 276
Visit Shots! now
Kevin Lindley appeared before a Bolton Crown Court judge to admit possessing no fewer than 123 wraps of mainly class A drugs intended for peddling. The hearing was told that police had followed a speeding car in Wigan and when it pulled up and they spoke to its occupants, they noticed the interior smelt heavily of cannabis. Lindley, 29, of Millgate, Scholes, was searched, a small amount of cannabis and cocaine were found and he was arrested. But once in a cell at Wigan Police station he then voluntarily produced a whole lot more wraps of drugs from the back of his pants. A search of his flat yielded yet more wraps plus three mobile phones. In total were recovered 72 wraps of cannabis, 49 of crack cocaine, one of cocaine and one of cannabis with a combined street value of £1,045. Lindley was jailed for 27 months and the judge also ordered that a Proceeds of Crime hearing be held at the same court on February 3 to see if any more of his ill-gotten gains can be recovered.
The arrest was made in the early hours of October 19 last year, the court heard. At around 2.55am a police patrol spotted a red Ford Fiesta, with several occupants inside, driving at speed on Warrington Lane. It passed from Scholes onto Millgate and eventually pulled up outside Douglas House when the officers got out and approached the vehicle. The smell of cannabis was said to have been particularly heavy around Lindley and consequently he was searched.
A woman has admitted driving under the influence of drugs and being in possession of cocaine. Yvonne Richardson, 36, of Borsdane Avenue, Hindley, was stopped by police in Argyle Street, Hindley, last November 14 and found to be unfit to drive having taken an illegal substance. She also admitted having a class A drug in her possession and driving a Renault Clio while not insured to do so. Wigan and Leigh magistrates banned her from driving for 12 months and a fine, court costs and a victim services surcharge mean she also has £357 to pay.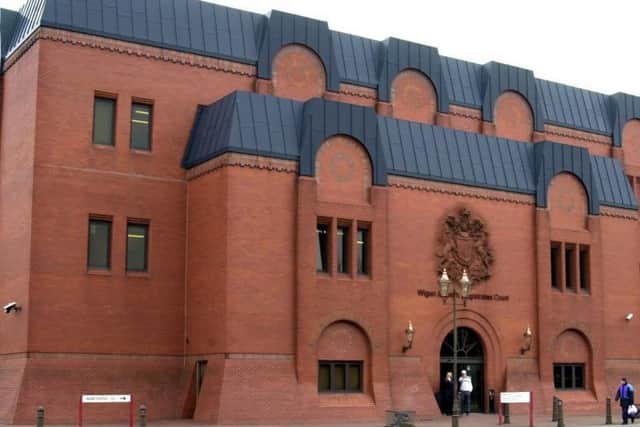 A motorist has admitted to being more than three times the drink-drive limit. Arthur Uzga, 36, of Scholefield Lane, Scholes, pleaded guilty to the offence after Wigan magistrates heard that a reading of 114 microgrammes of alcohol in 100ml was given when he was tested by police who stopped his BMW on Platt Lane on September 20. The legal limit is 25 microgrammes. The case was adjourned to the same court until November 18 and until then Uzga has been hit with an interim driving ban.
A man has been fined for begging in Wigan town centre. Craig Warburton, 30, of Poplar Street, Tyldesley, was found guilty in his absence of breaching the Vagrancy Act by asking for alms on Standishgate on August 15. When court costs and a victim services surcharge were added to the fine, he will have to find £184.
A woman has admitted to assaulting and police officer and smashing a window. Shelley Bridge, 34, of Harrow Road, Marsh Green, appeared before Wigan justices to admit to attacking PC Jemima Morrison and causing £100 damage to Natalie Foster's window on June 28. She must carry out 60 hours of unpaid work and pay £100 each to her victims. A 14-year-old boy was also accused of assaulting the police officer but denies the charge and will be tried at Manchester and Salford Magistrates' Court on December 17.
A teenager has admitted stealing two cars and other valuables in a Wigan raid. Junior Maloney, 18, of George Street, Hindley, appeared before Wigan magistrates to plead guilty to stealing a £6,000 Citroen DS4 and £35,000 Jaguar F Pace belonging to Mark Lomax plus a laptop, jewellery, bank cards and car keys during a burglary in Whelley on September 14. He also admitted to a separate charge of being carried in the Jaguar knowing it to be stolen. The bench committed him to Bolton Crown Court for sentence on November 18.
A Wigan 31-year-old has been accused of creating a huge library of vile "child pornography." Shaun Hardcastle, of Spencer Road West, Whitley, appeared before borough magistrates charged with possession of no fewer than 5,287 indecent images of minors, some 1,938 of which fall into the most serious category of abuse - A. A further 930 are deemed category B and 2,419 category C. Due to the seriousness of the allegations, the bench ordered that the case be immediately sent to Bolton Crown Court. Hardcastle was released on unconditional bail pending his first appearance before a judge on November 18.
A notorious shoplifter has been spared jail after her latest spree. Alysha Clayton, 31, of Saddleback Road, Norley, appeared before Wigan magistrates to admit to five thefts from various local stores in recent months, the latest being a £100 vacuum cleaner from the Range on October 21. Food from the Co-op and Tesco, laundry tablets from the latter on another occasion and other laundry products from a Tesco Express were also thefts to which she admitted. Justices gave her a 10-week prison sentence but suspended it for 12 months. She was also ordered to pay £200 compensation.
A Wigan schoolboy has been given an 18-month detention and training order after admitting he robbed someone of a bike and phone. The 16-year-old, who cannot be named, appeared at the borough's youth court also to admit to stealing a £100 watch and threatening two people. He was ordered to pay his robbery victim £500.
A man from Ormskirk has been charged with breaching Covid-19 laws by coming to Wigan at the height of lockdown. It is alleged that Alan Kervin, 44, of The Quays, Burscough, was spotted in the borough, sitting in his car smoking a cigarette. This was on April 30 when people were not mean to be travelling between counties. Wigan magistrates adjourned the case to November 25.
An uninsured Wigan motorist caught drink-driving for the third time in 11 years has been given a suspended prison sentence and banned from driving for a whole decade. Wigan and Leigh Magistrates' Court heard that Mariusz Matala was more than three times over the limit after his latest breath test when police stopped a VW Golf on Queen Street on May 2. Saying that he had clearly not learnt lessons from his previous brushes with the law, they imposed a four-month custodial sentence but suspended it for 12 months. The bench also took the unusual step of imposing a 10-year disqualification from the road on the 38-year-old. In order to drive legitimately again thereafter,
Matala will have to undertake an extended driving test. He also faces a £213 bill comprising court costs and a victim services surcharge. Matala had pleaded guilty to drink-driving - he gave a reading of 100 microgrammes of alcohol in 100ml of breath when the legal limit is 35 microgrammes - and to driving without insurance. No separate penalty was handed down for the latter charge.
A man who admitted entering a Wigan home hit by a closure order has been jailed for 22 weeks. Colin Faulke, 50, of no fixed address, had been accused of going to 75 Broom Road, Worsley Hall, which is the subject of a court ruling that no-one but its occupants should go there due to drug and anti-social activities. In doing so he breached the terms of an 18-week suspended sentence imposed by Wigan magistrates in March for assaulting three people. The hearing was told Faulke had also failed to adhere to a community element of the suspended sentence by not staying in touch with his supervising officer and failing to inform the officer of a change of address. The bench therefore activated the suspended term and gave Faulke another four weeks for the closure order breach which will be served consecutively to the first.
A young Wigan motorist will be dealt with at crown court after he admitted dangerous driving. Bryce Tarr, 20, of Kenyon Road, Swinley, appeared before borough magistrates to plead guilty to taking an Audi A3 through the streets of Ashton, Stubshaw Cross, Platt Bridge and Spring View at lethal speeds on November 26 last year. He also admitted to failing to stop for a uniformed police officer and driving without insurance. The bench sent him to be sentenced by a Bolton judge on November 16 and he was released on unconditional bail until then.
The sentencing of a Wigan sex offender who admits breaching a sexual harm prevention order has been further delayed. Simon Carter, 58, of Butler Street, Wigan, pleaded guilty to not having notified the authorities that he had a laptop capable of accessing the internet, in contravention of an order imposed by a Bolton judge in 2015 when he appeared before Wigan magistrates earlier this year. He was originally due to be sentenced in September, the hearing was adjourned to October 20 but has now been arranged again for December 9.
A man who drunkenly attacked a police officer has been given a suspended jail sentence. Mark Vernal, 39, of Dumbarton Green, Beech Hill, appeared before Wigan magistrates to admit to assaulting Pc Smith while drunk and disorderly on April 1. He also admitted to being in possession of cannabis that day. He was given a 12-week prison sentence but the bench suspended it for 18 months. Vernal must also attend an alcohol dependency programme and pay £207 in costs and a victim services surcharge.
A man has admitted having a customised sawn-off shotgun in Wigan. Nicholas Hindle, 27, of Siemens Street, Horwich, had been charged with possession of a firearm which had been adapted so that it would fire two missiles without repeated pressing of the trigger and also having the weapon having already served a five-year jail sentence.
The case was adjourned until November 20 but he is only set to be sentenced on December 2.
A man has walked free from court after being cleared of historical child sex abuse offences against a schoolboy in Wigan. Evan Richard Lloyd, of Chamomile Way, in the Lincolnshire town of Spalding, stood trial at Bolton Crown Court, having pleaded not guilty to the alleged attacks on a boy under the age of 14 between October 1, 1992 and September 1, 1994. The 44-year-old had faced two counts of indecently assaulting the child, one of committing an act of gross indecency and one of inciting the boy to commit an act of gross indecency on him. The prosecution then offered no evidence for one of the assault charges and, following a trial, he was found not guilty by the jury of the other three. The judge told the defendant he was free to go and discharged him from the dock.
A young man has been accused of possessing banned drugs with intent to supply them. Mahyar Ghadri, 21, of Prestt Grove, Worsley Mesnes, is charged with peddling cocaine and diamorphine, plus possessing cannabis and cash deemed to be criminal proceeds. He has yet to enter pleas and the matter was committed to Bolton Crown Court where Ghadri will make a first appearance on November 25. He is on unconditional bail until then.
A convicted paedophile has been fined after breaching a sexual harm prevention order by approaching a 12-year-old. Lee Wilding, 44, of Northwood Avenue, Wigan, appeared before Wigan magistrates to admit to having unsupervised contact with the boy in contravention of the order imposed by Bolton Crown Court in January 2018. Back then Wilding had admitted to downloading almost 4,000 indecent images of children and one charge of possessing an extreme pornographic photograph of an animal and was given a suspended prison sentence and an indefinite sexual harm prevention order. He was fined £120 and must also pay £34 to victim services and another £85 in court costs, bringing the total to £239.
The case of a Wigan teenager charged with racially aggravated harassment and abuse has been delayed. Dillon Marsh, 19, of Church Street, Golborne, is alleged to have hurled racist abuse at Shaun Ashby between February 26 and June 24. Wigan magistrates adjourned the latest hearing until November 16.
A Hindley Prison inmate has admitted to unlawfully possessing an iPhone and mobile. Shane Appleton, 22, pleaded guilty before Wigan magistrates to having the two communication devices (a Zanco mobile phone and Apple iPhone) at the jail on May 16 in contravention of the Prisons Act 1952. He will be sentenced by a Bolton Crown Court judge on November 25.
A young man has denied being armed with a hunting knife in public. Callum Clayton, 20, of Hollington Way, Winstanley, appeared before borough justices to the charge of having an illegal blade on Frog Lane on September 23. He was released on unconditional bail pending a first appearance before a Bolton Crown Court judge on November 25.
A man has denied being more than three times over the legal drink-drive limit. Paul Stockforth, 45, of Armistead Street, Hindley, is alleged to have given a reading of 120 microgrammes of alcohol in 100ml of breath when police stopped a Peugeot 208 in Armistead Street on September 26. The legal limit is 35. He was remanded on unconditional bail until a trial at the same court on February 22.
Thanks for reading. If you value what we do and are able to support us, a digital subscription is just £1 for your first month. Try us today by clicking here and viewing our offers ...