A £1.6m masterplan unveiled for borough park
Ambitious plans to improve the visitor facilities at Pennington Flash Nature Reserve in Leigh are under way.
11th Mar 2021, 4:52pm
- 3 min read
Updated
11th Mar 2021, 4:54pm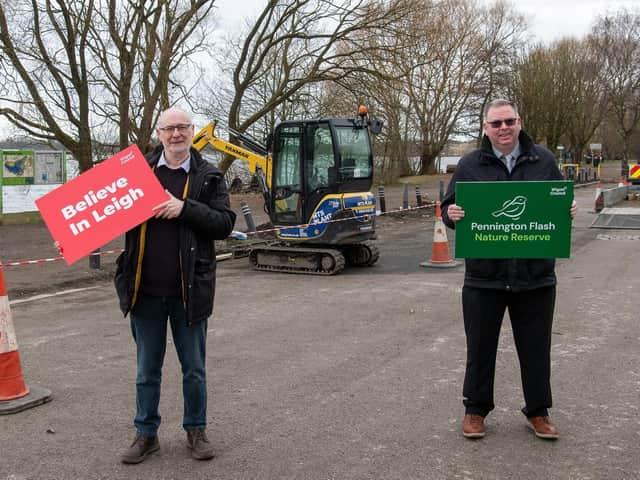 Couns Keith Cunliffe (left) and Kevin Anderson launch the makeover
The £1.6m makeover includes a new visitor centre and café with internal and external seating areas and a package of improvement works as part of the second phase of the £5m Believe in Leigh programme.
Funding has also been earmarked for a woodland play area and improved toilet and parking facilities, following feedback from residents.
Coun Keith Cunliffe, Leigh East ward member and deputy leader at Wigan Council, welcomed the plans, commenting: "During the pandemic residents have relied on their local greenspace more than usual, which is why this investment is so important.
"Pennington Flash is a much-loved asset for the people of Leigh and surrounding areas, and I'm delighted that we have secured such a considerable investment to deliver what residents have told us is important to them. These plans will also help address some of the priority areas highlighted by residents during the Believe in Leigh survey and Big Listening Project, providing great facilities for all our residents to enjoy."
In 2017, residents were given the opportunity to submit their ideas for improvements in Leigh as part of the Believe in Leigh fund. More than 100 suggestions were submitted with ideas ranging from new play areas to better shopping facilities in the town centre.
The first phase of Believe in Leigh has already seen substantial improvement projects delivered in Leigh town centre, such as better CCTV provision, improved street lighting, street furniture and environmental works.
Coun Kevin Anderson, Leigh South ward member and cabinet member for Police, Crime and Civil Contingencies at Wigan Council, said: "The new measures introduced during the first phase has had a really positive impact on Leigh town centre and we're hoping that the second phase will address the other priorities highlighted by residents, helping to make our town a safer and more attractive place for all."
Coun Cunliffe, added: "By 2022 the works at Pennington Flash will be complete, giving us a fantastic visitor destination in Leigh."
The plans for Pennington Flash Nature Reserve will go to planning committee in spring. If approved, work will begin late autumn with the visitor centre expected to be complete by spring 2022, followed by the woodland play area in summer 2022.
During the Believe in Leigh consultation, residents had clear views about what improvements they would welcome in Leigh. These included:
• Improve the shops and buildings in town centre area, and the market offer – residents felt this would make Leigh Town Centre more attractive to shop in and visit;
• Improve the local environment and street scene, parks, groundwork and landscaping – residents felt this would contribute to local pride and make the area a nicer place to live and work;
• Providing more opportunities for children and young people in Leigh, and more support for vulnerable young people – residents felt this might go some way to address anti-social behaviour;
• Create more community spaces, and support art and culture in the town, including community events;
• Improve the local transport infrastructure to alleviate traffic and parking problems;
• Support initiatives that would help residents feel safe, including a more visible police presence, CCTV network and 'safe zones'.
Residents and businesses are currently being asked to comment on the revised Strategic Regeneration Framework for Leigh, which was developed in response to the survey and sets out the long-term plan for the town centre. An announcement about youth facilities is also expected later this month.
Leigh town hall and archives is also undergoing a bold new makeover thanks to National Lottery Heritage funding. The building, scheduled to reopen this summer, will include a new public search room alongside museum and exhibition spaces – making Leigh's history even easier to access.
Two world class sporting events will descend on Leigh Sports Village this year and next, with the Rugby League World Cup taking place this autumn followed by the Women's Euro Championships in summer 2022.
The Wigan Observer and Wigan Post are more reliant than ever on your taking out a digital subscription to support our journalism. For unlimited access to Wigan news and information online, you can subscribe at www.wigantoday.net/subscriptions