Council asks Wiganers for ideas on tackling littering and fly-tipping - after cases more than double in a year
Wigan Council is asking local residents to share their thoughts on litter and fly-tipping, to help tackle these offences together.
Published 11th Mar 2023, 12:30 BST

- 2 min read
The appeal comes after it was revealed that the number of these defacing and demoralising environmental offences have more than doubled locally in the space of a year.
A survey by Defra (Department for Environment, Food and Rural Affairs) found there were 2,130 fly-tipping incidents on Wigan public land in 2021/22, more than twice the 941 reported in 2020/21.
The dramatic increase in the borough bucked the national trend, which saw a slight decrease of such incidents across England of four per cent.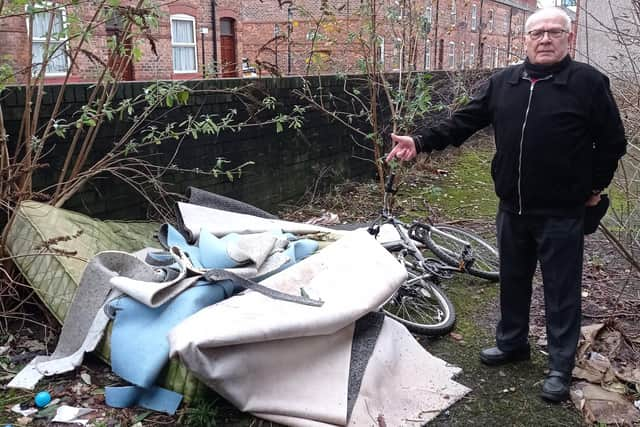 With costs of an estimated £4m a year dedicated to removing litter and fly-tipped waste from public spaces, the council has agreed a litter strategy to tackle these offences in partnership with communities and businesses across the borough.
Coun Paul Prescott, cabinet portfolio holder for planning, environmental issues, and transport said: "As it says in the strategy: 'Every pound of taxpayer's money spent clearing up after people who fly-tip in our borough, drop litter on our streets or fail to clean up after their pets, is a pound that could be invested in our schools, enhancing our local environment or caring for people in need.'
"Littering and fly-tipping is not just costing the council millions of pounds every year, it is a scourge on our environment.
"It can end up in local waterways and go out to sea, harming marine wildlife, and it damages our local environment, and can hurt or even kill local wildlife.
"We are determined to reduce the amount of litter and fly-tipping in our borough. But we cannot do this alone."
The survey is asking people what kind of items they see dropped and dumped, why they think people commit these offences, and their best ideas for encouraging people to stop littering and fly-tipping.
Everyone who replies will be given the opportunity to enter a free prize draw to win one of five £100 shopping vouchers.
Coun Prescott added: "We are all responsible for keeping our borough beautiful, and keeping litter and fly-tipping off our streets.
"Please take a few minutes to fill in our quick and easy survey and give us your thoughts on how we can achieve this together."
The survey can be found at www.wigan.gov.uk/LitterSurvey and the full terms and conditions for the competition can be found at www.wigan.gov.uk/OurTown