Expert insights on guarding your patio against cold damage this winter
Paving stones and patios, though robust, can be vulnerable during winter.
Watch more of our videos on Shots! 
and live on Freeview channel 276
Visit Shots! now
Challenges like dirt accumulation, emerging weeds, and stains intensify in colder months. Additionally, the dropping temperatures can lead to cracks, moss growth, and mold formation on patios.
Steven Bell, Director of Paving Shopper, remarked, "The upcoming winter of 2023 presents a unique challenge, especially for paving stones. Given the average cost of a new patio is around £1,200, homeowners need to be proactive in their maintenance to prevent costly repairs from frost, ice, or snow damage."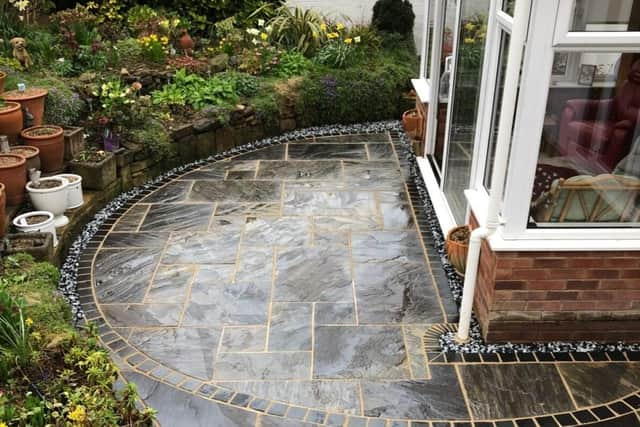 Regular cleaning is a simple yet effective solution. A weekly or fortnightly cleaning regimen during the season can maintain the grip of paving stones and ensure the longevity of the protective sealant.
Clearing fallen leaves or twigs and giving your garden paving a good sweep is essential. Materials like sandstone paving stones are particularly easy to maintain, with just a soapy water rinse often sufficing.
However, cracks on paving slabs can be problematic. They often arise when water in the concrete freezes and then thaws. Addressing these cracks early is crucial to prevent water infiltration and further damage.
Moss, which often stems from decaying weeds, can spread rapidly across paving stones, creating slippery hazards when frozen.
Resealing paving stones is another vital aspect. Typically done every three years, the timing depends on factors like foot traffic and weather severity.
During winter, garden maintenance can be challenging, but clearing frost and snow is vital. Plastic shovels are recommended for patios, and for de-icing, sand is preferable over rock salt.
Lastly, Steven emphasised the benefits of patio awnings. "They not only offer protection against the elements but also elevate the garden's aesthetic. An awning is a smart investment for any homeowner."