Medical herbalist Nicola Parker explains explains how to manage  anxiety and stress.
Certain herbs act as nervines and relaxants to reduce the physiological impact of stress on the body.
By

Medical herbalist Nicola Parker
Published 21st Jan 2021, 12:30 BST

- 3 min read
Watch more of our videos on Shots!
and live on Freeview channel 276
Visit Shots! now
Towards the end of last year, I felt a sense of positivity that I hadn't experienced for most of 2020. With Christmas on the way, I had hopes of seeing family as the restrictions lifted for a short time. News of a vaccine sounded positive, signalling for the first time, a possible end to the isolation and worry that have become our normal way of life.
Then, like so many of you, I felt fresh worries rise to the surface as the media spoke of coronavirus mutations and increasing death rates across the country. I feared for my family, for my patients, for the friends I have working in frontline jobs.
Anxiety hit me anew and I was not alone.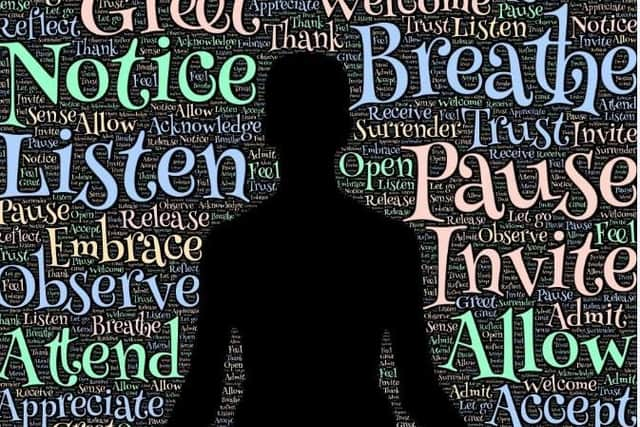 Patients new and old called to say their anxiety had flared up or that their skin or digestive issue (two areas affected significantly by stress) had returned. 'Do I have anything that can help?' they would ask.
Herbal medicine can be an excellent aid in managing anxiety and stress. Certain herbs act as nervines and relaxants, to reduce the physiological impact of stress on the body. Some herbs, like cramp bark, can help to relax the muscles and ease stress tension. Valerian can be used as a sleep aid and herbs lemon balm can calm digestive upset. However, taking herbs or even prescribed medicine is only one aspect in the battle against anxiety.
Another tool I regularly discuss is the concept of mindfulness.
Over the past 10 years, mindfulness has become a bit of a buzzword. Before mindfulness, people discussed meditation, but perhaps in an attempt to appeal to a more modern, western audience, the term mindfulness has become much more popular. Whichever word you choose to use, it's a tool that can train the brain to build resilience against anxiety.
Mindfulness is the practice of observing our mental chatter and calming it down. Instead of letting our mind control us and take us on a journey that we just have to sit and buckle in for, we stop the train of thought and instead opt for stillness.
Thinking about what to make for tea, leads me to think about shopping, which reminds me of supermarket Covid regulations, which makes me worry about my mum, a key worker, who I haven't called in a while because of my deadlines, which reminds me of that particularly difficult work task... and so on.
When practicing mindfulness, I observe that this thought train is taking me on a journey and I stop it, instead turning my attention to what I'm doing. The warmth of the water in the washing up bowl, the sound of the birds in the garden, the smell of the scented candle by the fire. Instead of worrying about the future or the past, I'm suddenly just in the moment and appreciating life for what it is offering right now.
It's not easy. Mindfulness takes practice and I recommend trying it for 20 minutes per day.
Research shows that it is an effective tool in managing stress and worry, a tool that fits really well alongside other therapy and medicines. So I use it often, alongside herbs that can help calm and relax the mind, making it easier to stop the thought train and let you enjoy your day instead of worrying it away.
My key remedy for this is theanine. It's an amino acid that helps promote calming brain activity; the same activity that has been measured in people who regularly meditate. For me, theanine helps me get to sleep, get on with my work, to do the thing I'm afraid of or nervous about or to just take a break from the incessant mental chattering that is always reminding me of things to worry about.
At the moment, things are very much out of our control as we live by restrictions that regularly adapt to the world as events change around us. What we can control, is ourselves and how we respond to it.
So this year, during this lockdown, I'm going to take my theanine, practice mindfulness and focus on training my mind to not torture me with mental worry day in and day out. Hopefully, with practice, I'll come out of lockdown, with a calmer more resilient mind.
For more information or to make an appointment with Nicola, contact her clinic on 01524 413733.