Chaotic scenes on the eve of Wigan's World Pie-Eating Championships
The delayed 2022 World Pie Eating Championships collapsed into chaos on the eve of the contest after pickets announced they'll block entry to the venue in a bid to get female presence on the refereeing team.
Published 23rd Jan 2023, 15:45 BST

- 1 min read
And a communication breakdown also compromised the coveted Bradley Piggins trophy.
The event is due to take place on Tuesday January 24 at pie noon in Harry's Bar in Wallgate, Wigan.
"We're expecting a front door blockade by protesters wanting to see a female presence amongst match officials, as is the case with the World Cup and Premier League, but they haven't allowed for the back door or our maintenance chap with a screwdriver to remove the door handle they'll chain themselves to," said organiser and Piemaster Tony Callaghan, owner of competition venue Harry's Bar.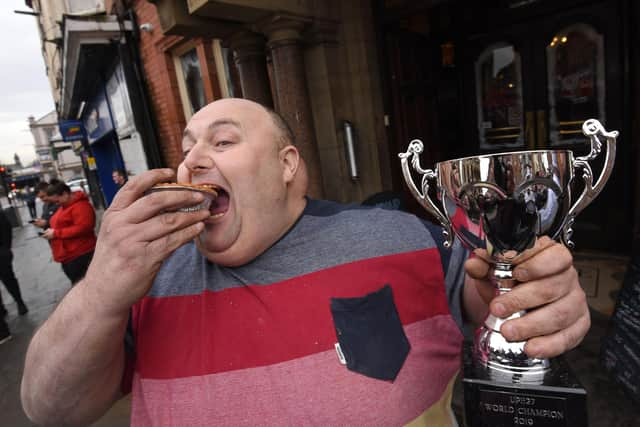 "However, our efforts to follow a policy of sustainability have tripped up after the work experience lad was given instructions to find a recycled trophy but came back with a cycling club cup."
Competitors are invited to speed eat a regulation meat and potato pie to win the Bradley Piggins Trophy.
Bricklayer Ian Gerrard, 43, from Wigan, won the last pre-pandemic World Pie Eating Championship in 2019, polishing off his pie in 35.4 seconds.
Gerrard bit back against nemesis and five-times champ Martin Appleton-Clare, 41, a salesman from Wigan, at UPE27 - the 27th annual World Pie Eating Championships - when Appleton-Clare encountered swallow stall in the final few seconds of the contest.
The cooked dimensions of the official regulation pie are a diameter of 12cm and a depth of 3.5cm, and a pie wall angle from base to top of between zero and 15 degrees.