Family's anger as telecoms giant cuts them off
Beverley Parr and her husband Ian say Virgin Media left them unable to use their phone, television or computer devices on December 25 and had a couple of stressful days trying to get the problem sorted.
Published 7th Jan 2021, 09:38 BST

- 3 min read
Updated 7th Jan 2021, 12:29 BST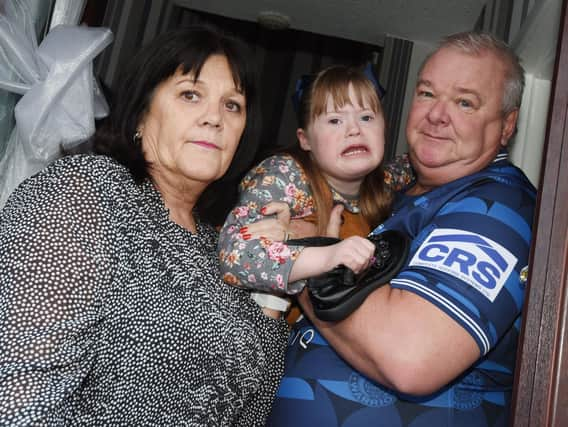 The Leigh couple further allege the company gave them contradictory accounts of what had happened and what should have been done and are also disputing the reason they claim they were given for the sudden blackout.
Beverley and Ian, from Leigh, said the whole episode was all the more stressful because of the effect it had on their seven-year-old daughter Bethany, who has Down's Syndrome.
And they described a small compensation offer from Virgin as insulting.
However, the company says the Parrs have now accepted a different offer in response to the issue.
Beverley said: "It's absolutely disgusting. The connection got turned off in the early hours of Christmas Day. We were still up watching something on TV and sorting the kids' presents out when it just went off.
"The phone went off so we couldn't make any outgoing calls. We've got elderly parents and couldn't even ring them.
"Our little girl lives with her iPad beside her and she couldn't get on anything. Our lad has mental health issues and he was getting angry on Christmas Day because of it.
"It's ridiculous. You just don't realise how much in this day and age you rely on the internet and technology. Basically everything is connected and you need an internet connection for it."
Beverley said that when they first rang Virgin on Christmas Day they were told they had not paid the bill, something they immediately and strongly contested.
They say they were told they would have to contact the collections department and their connection remained off, with Beverley and Ian both having to use their phone data to connect Bethany's iPad until they ran out.
When they contacted the firm again on Boxing Day they received an apology as there had been a mistake and they should have been reconnected.
However, the connection continued to go on and off, necessitating further conversations. Beverley said some employees hung up on Ian and others offered different explanations of why they had been cut off.
They were finally offered an apology, with the firm accepting they had been in the wrong, and £10, but Beverley dismissed that as inadequate for the stress caused and said she intended to take the matter further.
She said: "Ian was getting irate, I could hear it in his voice. Eventually I took the phone and said that I was the bill payer and needed to speak to them so we could get somewhere on this.
"It was just horrendous. Their offer of £10 I just find an insult. Christmas is priceless. We're escalating this."
Virgin said a further offer had been made to the family, which they had accepted.
A Virgin Media spokesperson said: "We apologise to the Parr family for any inconvenience caused due to the temporary loss of service. We have been in touch with the family to explain why their account was temporarily suspended and have provided them with a month's free services and a goodwill gesture which the family has accepted."
If you value what we do and are able to support us, a digital subscription is just £1 for your first month. Try us today by clicking here and viewing our offers.