Female pilot inspires Wigan borough pupils at International Women's Day event
A female pilot has been inspiring pupils from a Wigan borough school at an International Women's Day event.
Published 8th Mar 2023, 16:48 BST

- 2 min read
Updated 8th Mar 2023, 16:48 BST
A group of students from Fred Longworth High in Tyldesley learned today how their career prospects could take off in the years ahead, as they heard from women in a range of leading aviation roles in a special event at Manchester Airport's AeroZone education centre.
Among those speaking to the pupils was 29-year-old Amy Bannister, a TUI pilot who has been flying commercially for eight years, having started her journey in regional airlines.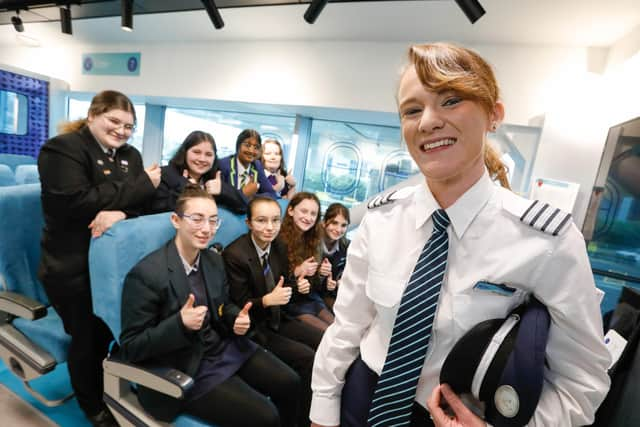 Amy, who lives in Manchester, described to pupils how she fell in love with flying at a young age after her father took her up in a light aircraft.
She took inspiration from her father, who was also a pilot, and her mother, an ex-cabin crew member.
Amy is now a passionate advocate for women in aviation and actively encourages more women to follow suit in earning their wings.
Statistics from the International Society of Women Airline Pilots show that in 2021, less than five per cent of UK commercial airline pilots were female – one of the greatest disparities in a 'STEM' (Science, Technology, Engineering and Mathematics) profession.
In November, a female pilot went viral on TikTok when she revealed that she was frequently mistaken for a flight attendant.
Amy, however, believes that the industry is starting to turn a corner.
She said: "I believe the tide is changing, and it's not unusual at all to have an all-female crew. Working as a pilot is such an energising job, no two days are the same, and destinations change from summer to winter which provides a mix of experiences.
"I would encourage any female interested in aviation to actively pursue it and join an industry which provides equal opportunities for all".
Amy was joined by Manchester Airport's Community Engagement Manager, Julie Walker, and Planning & Insights Director, Kathy Morrissey, who also head's up the airport's Women's Network.
They talked pupils through their roles, took questions and led group discussions, including a mini youth forum session.
Topics debated by pupils included gender stereotypes in the workplace, equal opportunities and the future of Manchester Airport and aviation more widely.