History enthusiasts remembering extraordinary Wigan war hero
A group is raising awareness of the life of a woman from the town who ended up in a Nazi concentration camp during World War Two.
Friday, 30th April 2021, 2:15 pm
Updated
Friday, 30th April 2021, 2:16 pm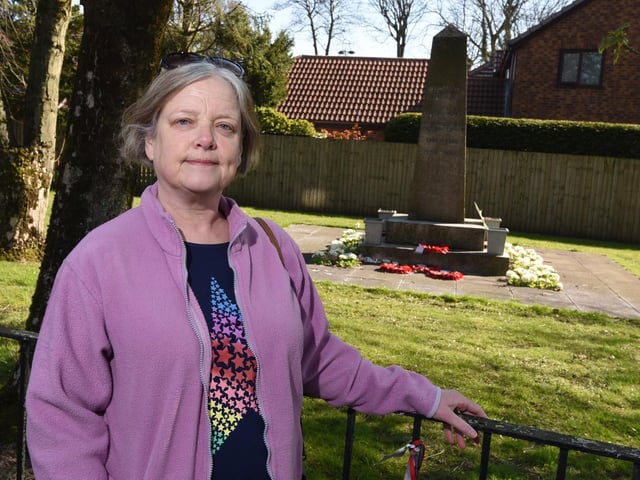 Babs Hennessy
The Mary O'Shaughnessy Society is hoping to improve residents' knowledge of a remarkable World War Two hero who was tortured by the Gestapo for her work against the Nazi war machine and found herself in Ravensbrueck, a camp set up for women.
The group is looking to install a memorial bench somewhere around Bryn or Ashton where Mary was brought up and has gained the support of a local councillor.
Mary O'Shaughnessy (left) and another prisoner of war
History enthusiast Babs Hennessy founded the group after she began researching Mary's incredible life.
She became all the more intrigued after the censuses of 1901 and 1911 threw up the coincidence that Mary was living on Downall Green Road, the same street Babs now calls home.
She said: "It all started a few years ago when I came across a mention of Mary in Sarah Helm's book about the history of the Ravensbrueck concentration camp.
"I was amazed that someone from Wigan had ended up there and wondered how it had happened.
"I decided to find out more about her. I expected to just find a story of a woman who was in the wrong place at the wrong time but I couldn't have been more wrong.
"She really was a war hero. It was no small thing that she did.
"I've always been interested in history and in particular women's experiences of the war.
"It has been really heartening to know that people are interested in Mary when I've spoken about her and I get a sense that people who have heard her story would like to see a memorial to her."
Born at Pleasant View on Wigan Road in Ashton in 1898, Mary played an extraordinary role in World War Two fighting against Adolf Hitler's regime.
She had a child out of wedlock in her early 20s and to escape the stigma of the illegitimacy she made her way to France and ended up working as a nanny.
That meant Mary was on the continent when war broke out in 1939 and she worked with the Resistance while France was under German occupation, with her work including saving the lives of RAF air crew.
She was so successful that she came to the attention of the Gestapo, ending up on the infamous organisation's most-wanted list.
She was tortured and interrogated but gave nothing away before she was sent to Ravensbrueck, where she was threatened with the gas chambers because she had a disability.
Against incredible odds, though, she managed to survive the war.
Local historians have previously shared details of Mary's life in the Wigan Archives magazine Past Forward and her story is now being recalled once again on the week of the anniversary of the liberation of the Ravensbrueck camp, which happened on April 30, 1945.
As well as Sarah Helm's book If This Is A Woman Babs also credits John Heminway's book In Full Flight - A Story Of Africa and Atonement, which has a chapter on Mary as it is about Anna Spoery, a fellow Ravensbrueck survivor who Mary ended up working for as housekeeper in Kenya.
The Mary O'Shaughnessy Society is now trying to work out where would be a suitable location for its memorial bench.
Babs had been hoping to place it in Jubilee Park in Ashton but there are concerns about vandalism and it does not fit in with the style of other benches already there.
She is now liaising with Bryn Independents elected representative Coun Sylvia Wilkinson to find a more appropriate location for it, with consideration being given to placing it near one of the war memorials in Ashton or Bryn.
Coun Wilkinson has given her full backing to the idea of a memorial bench to Mary.
She said: "I thought it would be lovely to have the bench in Jubilee Park but unfortunately I have been told it would be better somewhere else around the area.
"I think it's absolutely marvellous that Mary is being remembered. She's a Bryn woman born and bred and it's good to let more people know about her.
"A lot is now coming out about the war and what people did in it."
Babs has been raising awareness of Mary's life by speaking about her at events such as the Ashton Festival and to groups including the University of the Third Age (U3A), church congregations and trade unions.
She admits that she would like the memorial bench to be just the first stage in raising the profile of Mary's story in her home borough and in other places across the country associated with her life.
She said: "If we could get a headstone for her grave and get something to remember her in Wigan beyond a bench that would be fantastic."
She is buried in the Lawn Memorial Cemetery in Brighton. She died in 1973 after falling ill shortly after returning to the UK to attend a reunion event.
Remarkably Mary is not the only borough war hero in her family as her son Thomas, who was adopted by Mary's parents who lived in Leigh, was sent to a prisoner of war camp by the Nazis during World War Two.
He joined the Navy and was captured after his ship sank off the Norwegian coast and managed to escape, only for the plane he stole to crash and be found by Nazi forces.
Mother and son were reunited after his return to the UK and he moved to London in the 1950s before his death as a result of a workplace accident in the 1960s.
To find out more search for the Mary O'Shaughnessy Society on Facebook.
If you value what we do and are able to support us, a digital subscription is just £1 for your first month. Try us today by clicking here and viewing our offers.