Long road to recovery for Wigan woman who suffered brain haemorrhage ahead of 40th birthday party
More than £28,000 has been donated to help a Wigan woman who suffered a devastating brain haemorrhage as she prepared to celebrate her 40th birthday.
Published 16th Jan 2023, 12:30 BST

- 2 min read
Watch more of our videos on Shots!
and live on Freeview channel 276
Visit Shots! now
Louise Feeley was getting ready for a belated birthday party on December 10 when she felt tingling in her left leg and then lost control of the left side of her body.
Her partner Natalie Reese and relatives carried Louise to a car and drove her to hospital, as they could not get through to an operator when they dialled 999.
Louise, who grew up in Goose Green and has lived in London for 11 years, had suffered a life-threatening brain haemorrhage.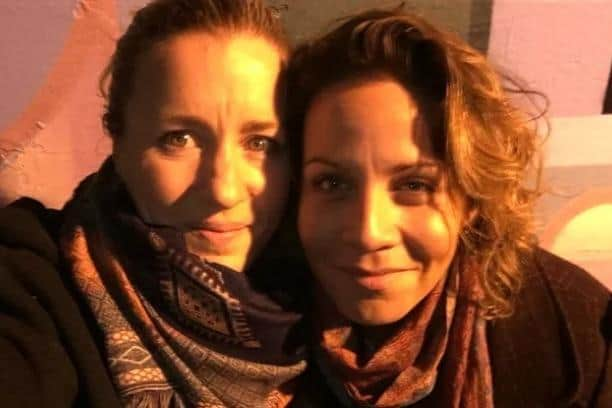 She had an emergency craniotomy to save her life, before spending nine days on life support.
While she is now making progress, it will be a long road to recovery, including learning to talk and walk again.
Natalie, her partner of seven years, said: "She has made some improvements over the last couple of days. She has started talking a little bit more, which is amazing. She is going to have to go through some more surgery, which is going to happen in the next four weeks.
"They have said it could be six months in hospital with a big stroke like this. We are so early on in the stages of how she will progress through the rehabilitation, so I think once they have done the surgery, she will be moved to a rehabilitation unit."
The main focus is now on Louise's health and it is not yet known when she will return to her job as a counsellor at a high school.
So Natalie has set up an online appeal to raise money to support them both over the coming months, which has already received more than £28,000.
She said: "I have been working full-time as a registered nurse for 19 years and I love being a nurse. I think my part now is to be by her side on this journey for however long that takes.
"The fund is doing really well at the moment. I put the target at £40,000 because I have never done a fund-raiser before. I know times are hard for people, but if this is going to go on for a long time, we don't know when Lou will get back to work."
She praised the "amazing" NHS for all the care and support given to Louise, who attended Hawkley Hall High School and Winstanley College.
But she said it was also a reminder that people should only call 999 when they really need to, as the phone line was so busy that they could not request an ambulance for Louise.
"We are so lucky to be living in a country that has a public system like the NHS, where it doesn't matter if you don't have money, you can still access healthcare," Natalie said.
"The doctors, nurses, physios, occupational therapists, they are all amazing. They are so specialised in their field."
Natalie urged people to be aware of the symptoms of brain haemorrhages and strokes, which can include weakness on one side of the body and slurred speech.