Milestone reached as Wigan football hubs approach kick-off
With kick-off approaching for Wigan's two new football hubs, council bosses have been given a preview of the top-class facilities.
Published 13th Mar 2023, 15:50 GMT

- 2 min read
Updated 13th Mar 2023, 16:06 GMT
A significant milestone has now been reached with the 3G pitches at William Fosters in Ince handed over to Wigan Council.
Town hall chiefs met with representatives from partner organisations to view the progress, while the Football Foundation - who have invested £8m into the hubs - have unveiled the potential for further projects in the borough.
The pitches at Laithwaite Park along with new hub buildings at both sites are nearing completion with the full opening dates scheduled for later in 2023.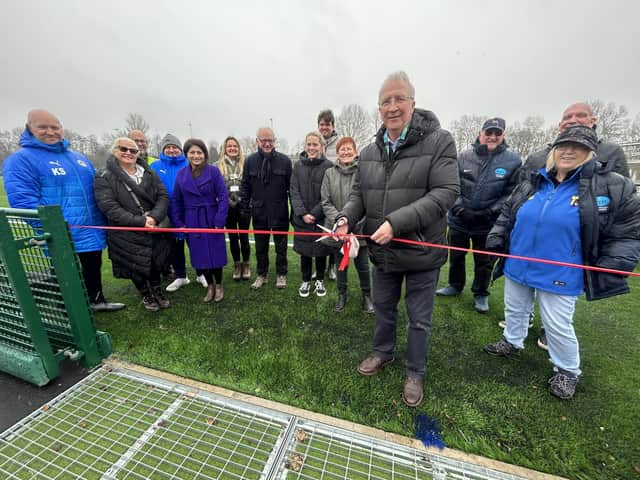 There will be five full-size floodlit 3G football turf pitches across the two sites along with changing rooms and community facilities, mirroring other successful hubs already up-and-running in other parts of the country.
The government-backed programme provides high-quality, affordable and sustainable multi-pitch hubs that can be used all year round.
Coun Nazia Rehman, cabinet member for resources, finance and transformation, said: "We were delighted to formally take possession of the new pitches at William Fosters and see the progression of the facilities at both sites.
"Both venues will make such a positive impact on our communities and we're eagerly awaiting the full opening dates later in the year.
"Like any good footballing partnership, we've enjoyed working in tandem with the Football Foundation and look forward to potentially creating more opportunities at other locations in the future."
Wigan Council and the Football Foundation are working together to activate other priority projects across the borough, including football turf pitches, changing room and grass pitch improvements, and small-sided facilities that will support the recreational game as well as providing opportunities for other sports such as netball, basketball and tennis.
Robert Sullivan, Chief Executive of the Football Foundation, said: "These hubs will undoubtedly provide a boost for grassroots sport in Wigan borough and the surrounding area.
"Not only will they act as excellent physical and social outlets for communities but also provide new jobs in the years to come, with people needed to support sites in delivering safe and positive environments for any user.
"Funding from the Premier League, The FA and the Government, through Sport England, is playing a vital role in making the project a reality."
The hubs will be managed by the National Football Trust and its charity Leisure United, with council representation at a local level.
Councillor Jim Moodie, lead cabinet member for leisure and wellbeing, said: "These new hubs will provide wide-ranging benefits across our communities and have a lasting impact.
"Following on from our borough hosting two major sporting tournaments last year, they will create their own legacy and ensure thousands have access to first-class facilities.
"We enjoyed the visit to see the progress being made and look forward to the opening dates."