Wigan ex-painter and decorator flying high with giant model of Lancaster bomber
A former Wigan painter and decorator put his enforced downtime to good use – by making a giant model of a Lancaster bomber.
Published 15th Feb 2023, 15:45 BST

- 2 min read
Andrew Melling, from Worsley Mesnes, had to give up work after a number of operations, but before then was a painter and decorator and also worked on the shop floor at Tesco for over a decade.
He began making aeroplanes from plastic model kits as a hobby, then graduated to making matchstick models. However, his 4ft Lancaster bomber is his most ambitious effort yet.
Andrew – who is more usually known as Drew – has spent a number of years recovering from ill-health, with operations for a detached retina and also his shoulder, and more to follow.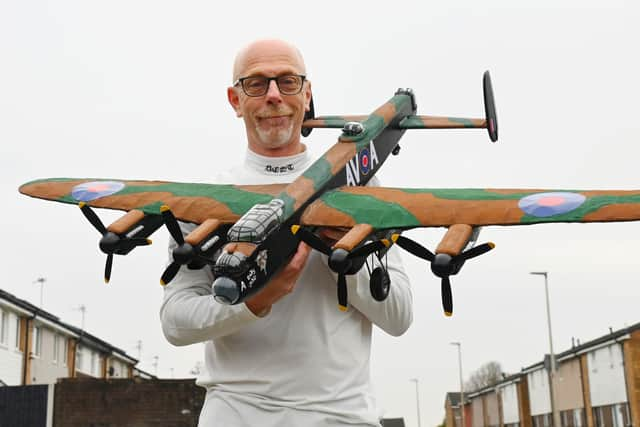 The dad-of-three's creations are all made from recycled materials, and – with no instructions on how to put them together – he has to research them himself to make sure they have a likeness to the original object.
Andrew, 55, said: "I got the model plans for it online, but there were no instructions on how to build it. I just looked at the plan and tried to copy it.
"It's mainly made out of balsa wood and plywood. The wingspan is 52ins and the whole thing took about three months to build."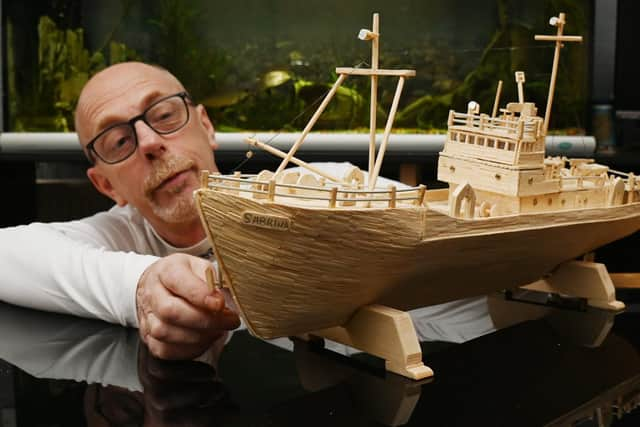 Andrew added: "I've not been able to work while waiting for operations so doing this has kept the brain occupied. I've worked all my life so the last four years have been a culture shock. This gives me the satisfaction of doing something."
The model aeroplanes are dangling from the ceiling of his kitchen/dining room, and give the appearance of chasing each other.
Andrew's talents don't stop at aeroplanes. He has also made intricate models of a fishing trawler, a canal barge, a tram and a steam-roller, all from matchsticks.
The Lancaster, with its distinctive giant wingspan, was far and away the most effective British heavy bomber of World War II.
Among other actions, they were used on the raids on the Ruhr valley in 1943, which inspired the film The Dam Busters. They continued to be used until being withdrawn from service in the 1950s.