Wigan fans reminisce on FA Cup Final victory 10 years ago today
It's been 10 years since Wigan Athletic won the FA Cup.
Published 11th May 2023, 04:55 BST

- 2 min read
Updated 11th May 2023, 07:56 BST
Latics were crowned champions back in 2013, with a late Ben Watson header giving Roberto Martinez's side a 1-0 victory over Manchester City.
The result sent shockwaves throughout English football, being Wigan's first ever major trophy, securing them European football and a score-line that marked the end for Roberto Mancini's time as Manchester City boss.
We asked our readers for their memories of that iconic day.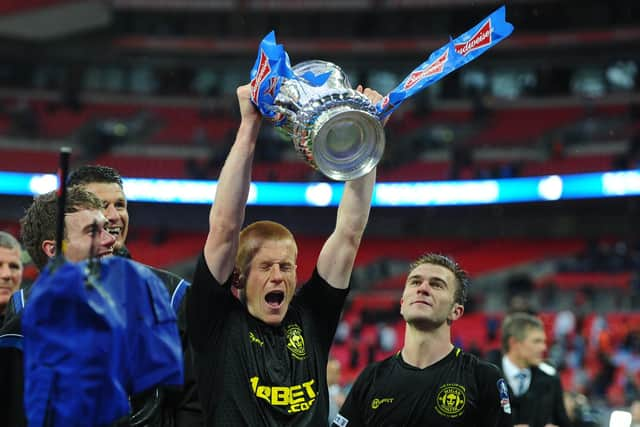 Stephen Pilkington said: "Driving the team coach in to Wembley stadium. What a great feeling."
Danny Bayliss said: "Travelling down with my grandad not hoping for anything much but to enjoy the day, not every day we get to a cup final.
"Get to London and getting ripped off with expensive beer, but we didn't care because we was at Wembley.
"The game kicked off and we were just hoping and hoping and bang we somehow won it.
"We travelled all the way back in total disbelief and got home, opened another box of beer, and watched the game on repeat all night long."
Becky Jayne said: "I was pregnant with my daughter and we had a house full of people watching the match on the TV, kids all had their faces painted, we made blue and white cakes and then I spoke to my uncle in Australia who's a massive Latics fan and he was so happy, a moment I will treasure forever."
Anne Hayton said: "I was going to a friend's wedding that day.
"As I stepped out of the house, Ben Watson scored and I saw my neighbour leap up out of his chair!
"My brother went to the final. He said it was a brilliant day, but very, very cold!"
Jonny Hart said: "Overslept the day I was meant to queue up for tickets at stadium
"Panic bought online and got front row right behind the goal
"Dad went missing once Watson scored and he ended up four rows back celebrating."
Brenda Entwistle said: My son went with his friend.
"We 'watched' on TV through fingers.
"I have never screamed as loud, ever when the final whistle went.
"Relatives rang from different parts of the country and I cried! Little Wigan."