Wigan men take on marathon challenge to help two charities
Two friends are pulling on their running shoes as they take on a marathon to support good causes.
Wednesday, 7th April 2021, 7:00 am
Gary Baker and Gary Ingram, who both live in Springfield, have pledged to run 26.2 miles in aid of Derian House children's hospice and Cancer Research UK.
It will be the first time Gary Baker has tackled the distance, having tried unsuccessfully to register for the London marathon several times.
But he wanted to help when another friend asked if he could do something to support the hospice.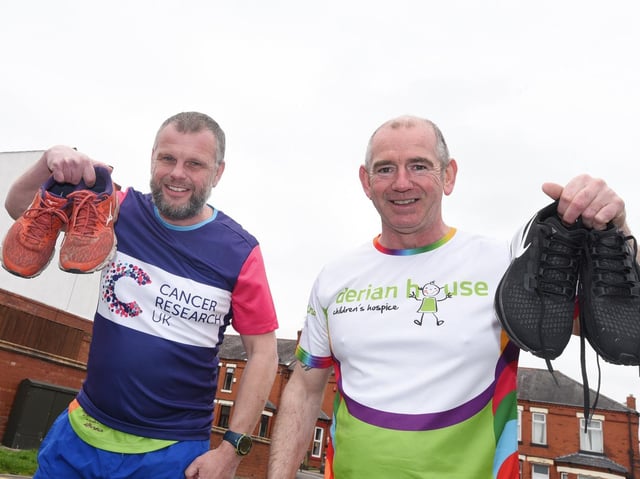 Gary Ingram and Gary Baker
He said: "I had been toying with a marathon and my friend asked if I could do something for Derian House, so I said I would run it. I didn't think too much about it until I spoke to Gary and he told me I needed to start training and putting the hours in.
"I have got up to about 19 miles so far."
Gary works for Osprey Healthcare, alongside occupational therapists and physiotherapists providing equipment for children and adults with physical disabilities, another reason why he was keen to support Derian House.
He said: "I have heard about Derian House before but never really looked into it. It's a place where children with disabilities and those needing end of life care can go."
The men will also raise money for Cancer Research UK, as Gary Baker has lost loved ones to the disease. The charity works to find cures and treatments for cancer in a bid to save lives.
They will set off from Leyland on Saturday, May 15 and run past Derian House in Chorley as they make their way to Wigan.
They are now well into their training, covering many miles each week and learning how to stay strong mentally as they cover the distance.
Postman Gary Ingram, 53, has previously completed the London marathon, but it will still be a real challenge for both men.
That is particularly the case because they will not be supported by large crowds of people, as they would be if they took part in an organised race like the London marathon.
Gary Baker, 48, said: "Me and Gary played rugby all our lives. We're not renowned runners. It was a big shock to the system to see how much work people put in to run a marathon.
"I am trying to run the marathon in four hours, but I will be really happy with four-and-a-half hours."
The men aim to raise £2,000 in total for the two charities.
Donations can be made at uk.virginmoneygiving.com/GaryBaker15
​Thanks for reading. If you value what we do and are able to support us, a digital subscription is just £1 for your first month. Try us today by clicking here