Wigan widower's musical message of hope
A Wigan singer-songwriter has released a new single with a message of hope during these tough times.
Published 2nd Nov 2020, 07:00 BST

- 2 min read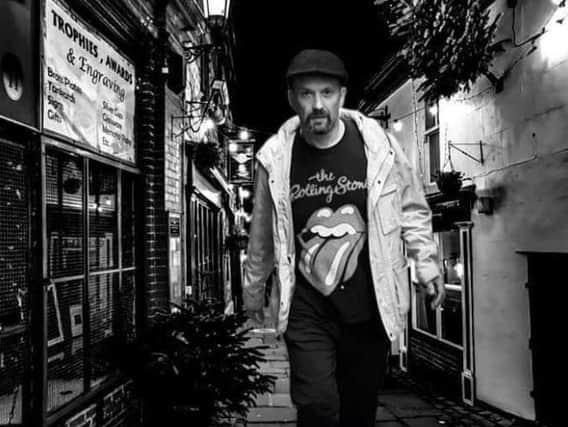 Andrew Cantwell, who lives on St Wilfrid's Road in Standish, faced personal tragedy when he lost his wife Diane to sepsis in 2018.
But the trauma he suffered thereafter has inspred him to pen the uplifting Lockdown Love, which is available now.
Growing up loving music and briefly performing in a band in his teenaged years, Andrew could only dream of a career in music as adulthood kicked in.
However he turned his grief into positive action and the musical creativity he had always sought, when after losing his wife, his son Dylan suggested he enrol at The Music Projects in Wigan.
He joined the organisation as a student having successfully battled alcoholism and going teetotal, making his success on the local scene an extraordinary tale of triumph against the odds.
Andrew said: "With my background story, if someone had told me that all this would happen I would have burst out laughing.
"It just shows that if you change your perception and focus on positivity what can happen is unbelievable."
With help from popular musican, producer and TMP's John Kettle (of Merry Hell fame) and Martin Manning (The Adjusters), he wrote, performed and recorded his first single, Watching The World Go By, which had radio airplay across the UK and received rave reviews.
The song is paired in the official release with a cover of How Long Will I Love You, a song by one of his favourite acts, Scottish folk-influenced group The Waterboys.
Acoustic guitarist and singer Andrew is joined on Watching The World Go By by John Kettle on guitar and bass.
John also appears on the cover and he and Andrew are joined by vocalist Alex Strickland, The Music Project's lecturer Dean Meadows on piano, drummer and gig promoter Rob Fairhurst and Will Watts from Flechettes on bass.
Also featuring John, Lockdown Love, was written about falling in love during lockdown and is available on all major streaming platforms including Spotify, Google Play, Amazon Music, Deezer, Tidal and Napster.
To listen to the song search Lockdown Love on YouTube.