Winter wonderland with 80 Christmas trees on its way to Wigan and Leigh Hospice
A winter wonderland of glittering trees will light up the gardens at a Wigan charity this Christmas.
Published 1st Dec 2022, 12:30 BST

- 2 min read
Updated 1st Dec 2022, 13:09 BST
Hindley-based Wigan and Leigh Hospice has 80 Christmas trees looking their finest as staff, volunteers, patients and their loved ones prepare for the festivities.
People across the borough can support the festive forest as all of the trees can be sponsored, either in memory of someone special or by organisations and businesses.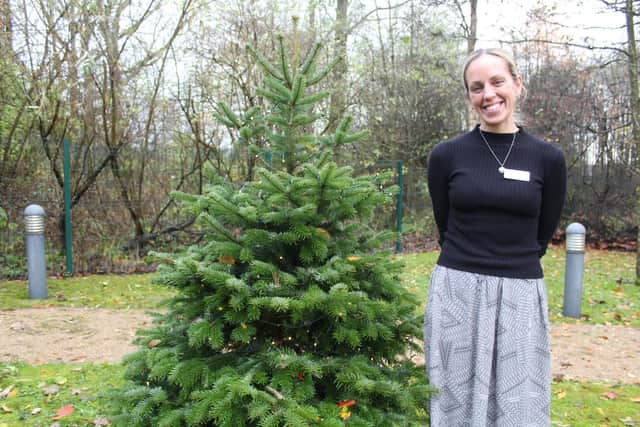 Every bedroom at the hospice has patio doors looking out onto the gardens, so all of the patients will be able to see the display throughout December.
One of the initiative's regular supporters is Walmsleys Insurance Brokers in Wigan which sponsors a tree every year.
Claims manager Ian Sage said: "Christmas can be a sad time and you give patients and visitors that little bit of joy in bringing a Christmas tree. I've been to see our tree at the hospice in the past and I felt proud when I saw our sponsor message. It makes you feel as though you've contributed to such a good cause.
"We started supporting the hospice years ago. We're pretty local and wanted to support a charity so it was a no-brainer to support the hospice, because it provides such a service to the community. It has grown over the years, increasing the number of services it provides and I know it needs support."
Lindsey Butler, the hospice's fund-raising and lottery manager, said: "Every year our staff look forward to Sponsor a Christmas Tree in our gardens; they look absolutely stunning and it really feels as though Christmas has come.
"All of our inpatients can see the trees from their rooms and it brings joy to a difficult time for our patients and their loved ones, as well as comfort to those who sponsor a tree in memory of someone."
Each sponsored tree will feature a plaque dedicated to a loved one or a message and logo from a business in support of the hospice.
Sponsorship is £200 per tree and can be secured by calling the hospice on 01942 525566, emailing [email protected] or visiting www.wlh.org.uk