New residential development plan for Wigan green belt sparks anger from protestors
A group of objectors are standing against an application for five large houses on Wigan grassland.
Published 5th Jan 2023, 07:31 BST

- 2 min read
Updated 5th Jan 2023, 07:31 BST
The plan for the small residential development off Arbour Lane in Standish is for permission in principle – which means a further application with detail of the development would be needed and approved before any building work could begin.
Despite this, residents group Standish Voice, which is supportive of keeping the green belt where this development would be built, has already lodged its objection as it forms part of the land it wants to be retained for public use. Members believe the area is already overpopulated and oppose any house-building on the fields: reasoning they have used to object to an 83-home development proposed by Jones Homes nearby.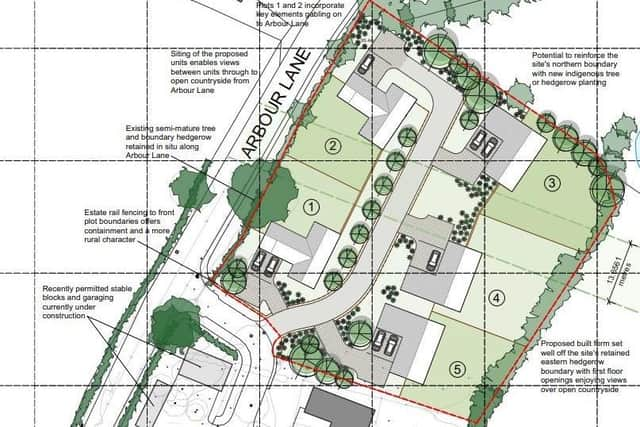 A spokesperson said: "There has been a huge programme of house-building in Standish which has overwhelmed our infrastructure but none of it has been built on our green belt, which is protected.
"It is vital that the very strict rules of development in our precious green belt are upheld and this application is strongly refused. Allowing this application would give free rein to other housebuilders itching to tear up more of our green fields around Standish for yet more inappropriate development.
"We urge others who want to protect our greenfield areas to object to this proposal."
Applicants Julie Whalley, Elaine Bithell, Robin Higham and Clare Higham all believe that their "high-quality residential scheme" can work for this site which sits opposite the Kiwi Nurseries Garden Centre.
Their argument, outlined in the planning statement, is that approval of new dwellings on the adjoining Black Horse Farm site back in 2018 "shows that there is acceptance of new houses in this location."
Mrs Whalley was granted permission by Wigan Council at the time to build three houses on the site. No decision has been made by the council on this matter so far.