Residents object to Wigan road widening plan
Wigan Council has included extending the width of School Lane in Standish as part of a number of schemes being suggested for parts of the borough which have seen extensive housebuilding in recent years.
Friday, 19th March 2021, 4:13 pm
Updated
Friday, 19th March 2021, 4:16 pm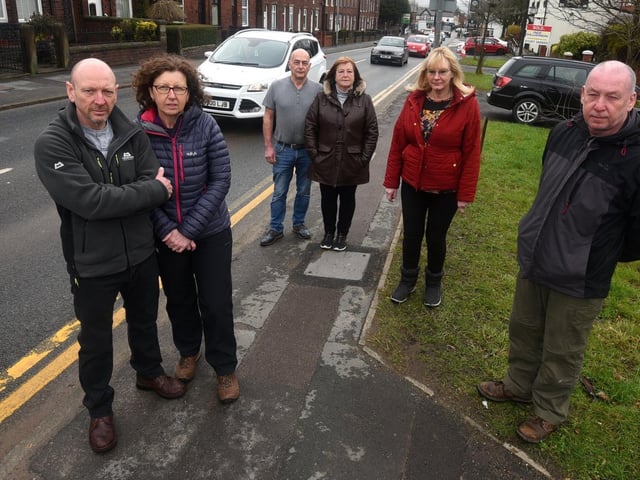 Residents on School Lane who oppose the idea to widen the road
The local authority wants residents' views on how it can spend money given by construction firms to mitigate the effects of the new homes being built.
Improving traffic flow is one of the suggested aims the schemes could work towards.
But residents living along the stretch of School Lane which could be widened have shared major concerns about the idea, saying more road space will simply add to Standish's notorious traffic and congestion issues and raising questions about the environmental impact.
The timing of the major consultation in the middle of the Covid-19 pandemic has also drawn criticism.
Ian Parkes, who lives on School Lane, said: "We obviously don't want to see another line of standing traffic outside our house.
"Everybody in Standish would agree there is a traffic problem and we don't think widening 100 yards of the road is a silver bullet that's going to fix it.
"We think it's just going to be another lane of traffic during the two rush hours every day.
"We've got the school on the corner with kids going in and out yet the pavements could be reduced.
"It will also be an eyesore for anybody driving into the centre of Standish.
"We're also trying to be greener and I don't see how this is going to help that.
"There are better things the money could be spent on, like improving the centre of the village so people want to shop and stay local rather than just driving through. There are green areas that need improving.
"We also think that if you reduce congestion that's just going to give a green light for builders to come and develop even more land, which I don't think any of us want to see."
Mr Parkes said neighbourhood forum Standish Voice had put some good ideas forward and he hoped residents would back those.
He also hit out at the council that it has decided to run the consultation now.
He said: "It's ridiculous this is happening in a pandemic.
"The library is shut so we can't see any plans and on the website there are no mock-ups of what it will look like.
"It's just a bunch of questions with tick boxes and these are big decisions and irreversible changes we are facing here."
Wigan Council said it recognised there were concerns around some of the ideas proposed and urged residents to give their opinions by taking part in the consultation.
Coun Paul Prescott, cabinet member for transport, environmental services and planning said: "Prior to this consultation, discussions have taken place with interested parties and local groups that have helped form the options available.
"The legislation governing the funding does not allow for complete freedom on how the money can be spent and any schemes do have to help mitigate the adverse impacts of housing development that has been granted.
"We are fully aware that there are strong opinions on important issues around traffic calming and travel, which is why we created this survey to gauge public feeling.
"In addition to the survey, we held a virtual consultation event last night with Standish residents and representatives in order to explain some of the schemes in more detail.
"We are encouraging every resident in Standish to complete the questionnaire, which will close on Sunday 21st March.
"We recognise how important it is for the community that we spend the money in a way that will benefit residents the most.
"Residents' view will also be used to shape the final plan.
"Separate to this process we are also continuing to explore opportunities for other sources of funding for infrastructure."
If you value what we do and are able to support us, a digital subscription is just £1 for your first month. Try us today by clicking here and viewing our offers.