Expert reveals the top 5 hacks to prevent and remove mould ahead of spring
The cost of living crisis has left many householders face rising threats of a 'mould epidemic'
Watch more of our videos on Shots!
and live on Freeview channel 276
Visit Shots! now
January's cold weather has put many households in a difficult position with the cost of living crisis hitting hard and leaving many facing rising threats of a 'mould epidemic'. The rising cost of heating bills has left many unable to turn their heating on resulting in mould in homes.
The National Association of Property Buyers is warning of the tragic consequences mould infestation will bring this winter. It is reported that approximately 4.7 million private renters have battled mould issues at their homes in the past year, and since, dehumidifiers have become essential to improve homes and health.
Dr Govind Desai confirmed that mould can be deadly: "Mould is a fungus that is found everywhere and most commonly in a damp environment. The allergic response may include rashes, watery eyes, fever or difficulty breathing."
He added:"It can also lead to mould-induced asthma, Allergic bronchopulmonary aspergillosis, Hypersensitivity pneumonitis and Allergic fungal sinusitis."
Spokesperson Ivan Ivanov of End of Tenancy London has revealed his top five tips on preventing and removing mould in your home. WIth the most obvious gadget to help with the mould being a dehumidifier, Ivanov gave some tips on getting the most out of your dehumidifier as well.
If you have recently become a victim of the ongoing mould crisis, End of Tenancy London recently found that there are other simple ways to safely remove and prevent mould whilst also protecting yourself from the health hazard.
So, what are the best ways to handle mould in your home? Here are the top tips.
Five tips for safely removing and preventing mould in your home
1. White vinegar
Due to white vinegar's acidic nature, it kills mould easily. Incorporating sodium bicarbonate, or salt as a scouring agent can enhance the removing power. However, it is not safe to use on some surfaces such as natural stone, cast iron or aluminium, and waxed wood.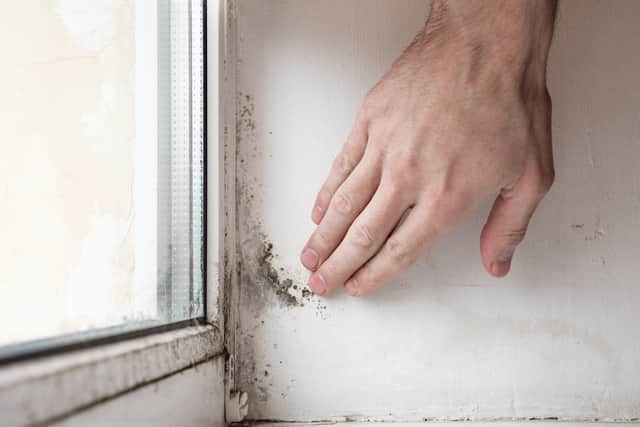 2. Baking soda
Baking soda is completely safe for humans and pets, is moisture absorbing and it acts as a deodorizer. The latter helps to remove that musty smell mould can leave behind. It has a high pH that inhibits the growth and survival of mould, however, remember baking soda cannot eradicate the bacteria entirely and is less effective on porous surfaces.
3. Don't paint over it
Mould will eventually become visible because paint is just a wall covering. It will soon reappear on the surface after growing into the pain, even if you keep painting over it.
4. Mould and Mildew cleaning sprays
Anti-mould spray is a simple and effective way to remove mould and any remaining stains from your surfaces. They work great for mould suppression, prevention, contents, rooms, and appliances.
5. Wear protective clothing
Mould is considered a 'silently fast killer': touching and inhaling mould spores can trigger extreme health problems therefore, wearing a mould safety mask is extremely important and even using gloves when coming into close contact with the bacteria.