Five Guys reveals unusual reason why they give customers extra fries & unlimited toppings with every order
Five Guys has explained why they give customers free toppings and an extra scoop of fries with every order
Watch more of our videos on Shots!
and live on Freeview channel 276
Visit Shots! now
Five Guys has revealed why they give you free toppings and an extra scoop of fries when you eat at the fast-food chain. The American burger chain brands itself as giving customers the option to customise their food with up to 15 free toppings alongside getting an extra scoop of fries with every order.
The generous free toppings include lettuce, tomato, pickles and mushrooms, as well as a number of sauces from ketchup to relish that you can add as you like. However, the generous gesture is unusual for a fast-food chain, and Five Guys appears to be the only one to offer the add-ons free of charge.
Speaking to Food Republic, Chad Murrell, one of the sons of Five Guys founder Jerry Murrell revealed one of the reasons why they give out the toppings for free. He said: "'We always give an extra scoop. I say load 'em up and make sure they get their money's worth.'
"I won't name names, but other restaurants just don't give a satisfying amount of fries."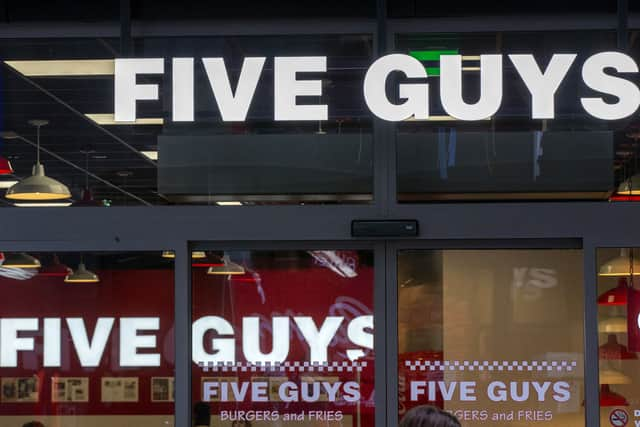 Five Guys is an American fast-food chain which first launched in Virginia in 1986. Now it has branches world-wide with a number in major UK cities including London, Leeds, Manchester and Birmingham.
According to the Five Guys website, the free customisation option gives customers the option of up to 250,000 possible combinations to choose from. The website says: "If you had one a day, it would take you 684 years to try them all!
"Milkshake mix-ins also give you 1000 possible combinations while the Coca-Cola Freestyle machines in every restaurant give you 100+ drink flavours. So change it up as much as you want, or stick to your favourites. At Five Guys you always get exactly what you want."
Five Guys milkshake menu
In addition to the food customisation option, Five Guys also offers free 'mix-in' options including Oreo Cookie Pieces, REESE'S Peanut Butter Cups and Lotus Biscoff for its milkshakes. Five Guys is the only fast-food chain that allows customers to add unlimited extra items to their food and drink for free.
Oreo® Cookie Pieces
REESE'S Peanut Butter Cups
Vanilla
Chocolate
Strawberry
Lotus Biscoff®
Peanut Butter
Banana
Salted Caramel
Bacon