Flybe goes into administration: All UK flights cancelled after airline collapses, how to claim a refund
Customers urged not to travel to the airport as Flybe cancels all scheduled flights after the airline goes into administration.
Flybe has cancelled all scheduled flights after the airline went into administration on Saturday (January 28). The low cost carrier said customers have been urged not to proceed with their travel plans unless they have arranged alternative flights.
"Regretfully, Flybe has now ceased trading. All Flybe flights from and to the UK are cancelled and will not be rescheduled." In a statement posted on its website, Flybe said those passengers who are due to fly with Flybe today or in the future should not travel to the airport unless an alternative flight with another airline has been arranged.
It added: "Please note that Flybe is unfortunately not able to arrange alternative flights for passengers." It also advised customers to contact relevant airlines or travel agents as they may be able to support alternative arrangements and provide further advice regarding any claim.
The UK Civil Aviation Authority's consumer director Paul Smith said: "It is always sad to see an airline enter administration and we know that Flybe's decision to stop trading will be distressing for all of its employees and customers.
"We urge passengers planning to fly with this airline not to go to the airport as all Flybe flights are cancelled. For the latest advice, Flybe customers should visit the Civil Aviation Authority's website or our Twitter feed for more information." For information or assistance, customers can also email the airline directly.
This is the second time that it went into administration. Flybe collapsed in March 2020, with the onset of the Covid pandemic seen as the final straw for the ailing airline, which had struggled with high operating costs. It relaunched two years later.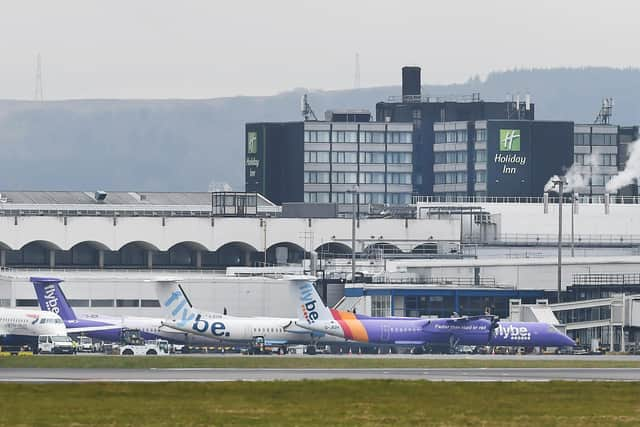 How to claim a refund
According to Civil Aviation Authority, if you booked directly with Flybe and paid by credit card you may be protected under Section 75 of the Consumer Credit Act 1974 and should contact your card issuer for further information. Similarly, if you paid by debit or charge card you should contact your card issuer for advice as you may be able to make a claim under their charge back rules.
If you purchased travel insurance that includes cover for scheduled airline failure, known as SAFI, you should contact your insurer. If you did not book directly with Flybe and purchased your tickets through a third party, you should contact your booking or travel agent in the first instance.
Passengers who booked directly with the company via either a credit, charge or debit card may alternatively be able to make a claim through their card provider. Some card providers will ask for a negative response letter confirming the position. Passengers may also be able to make a claim against their travel insurer. The negative response letter will be published shortly.
Direct booking with an airline
If you paid the airline directly by credit card you might be protected by Section 75 of the Consumer Credit Act 1974. You should check with your card issuer for further advice. You may have similar cover if you paid by Visa debit card and should check with your bank.
Booked through an Airline Ticket Agent
If you booked your ticket through an airline ticket agent you should speak to the agent in the first instance; they may have provided travel insurance that includes Scheduled Airline Failure cover.