Madonna painting: French mayor asks to borrow Jérôme-Martin Langlois artwork from singer's personal collection
The painting, Diana and Endymion, was on display in the city decades earlier and was believed to have been stolen or destroyed during the war - however the artwork has since turned up in Madonna's private collection
Watch more of our videos on Shots! 
and live on Freeview channel 276
Visit Shots! now
The mayor of Amiens, a city in northern France, has made a plea to pop superstar Madonna to lend them a painting for their European City of Culture 2028 bid. The painting in question is Diana and Endymion, thought to have been painted by Jérôme-Martin Langlois on commission by King Louis XVIII and lost in the first World War.
Mayor Brigitte Fouré, said in a video on Facebook that, despite Madonna probably never having heard of Amiens, there is a special link between the city and the Like a Virgin singer. The painting thought to be owned by Madonna was completed in 1922 and was exhibited in Amiens from 1878.
"This painting is probably a work that was lent to the Amiens museum by the Louvre before the first world war after which we lost trace of it", the mayor explained. "I would like it if on this occasion you could lend us your painting so locals can rediscover this work and enjoy it."
The painting was thought to have been destroyed or stolen during the bombing and fighting in the city during World War I, and the museum where it was displayed have lodged legal actions against "persons unknown" for its disappearance. Fouré told The Guardian she had just recently learned that the pop star may be in possession of the painting.
"My initial aim was to do something a bit humorous to make people talk about my city, especially at this time, when the pre-selection for European capital of culture is happening. I thought there would be some response to the video, but not the reaction there has been," she told the newspaper.
"I thought it would be a good idea to ask her if we could just borrow this painting that we haven't seen since the first world war. The painting was sold in a perfectly legal auction; she bought it and she owns it. I'm not asking her to give it to us but to allow us to borrow it for just a few weeks so people here can see it."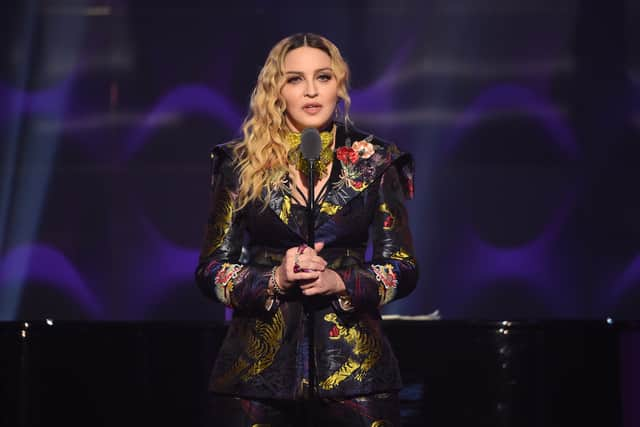 Madonna recently announced a European tour with four London dates, but won't be stopping by for a concert in Amiens, the birthplace of French president Emmanuel Macron. The singer has yet to respond to Fouré's plea, but if she decides to lend the painting, her European tour could be the perfect time to drop it off.