Metropolitan Police 'regrets' over arrests of six anti-monarchy protesters ahead of King Charles' coronation
The leader of the Republic group, along with other affected protesters are reportedly considering legal action against the Met over their treatment.
Watch more of our videos on Shots!
and live on Freeview channel 276
Visit Shots! now
The Metropolitan Police has expressed 'regrets' over the arrests of six anti-monarchy protesters ahead of King Charles' coronation on Saturday (May 6). Protestors from the Republic group were taken into police custody.
The Met Police attempted to explain via a statement that officers initially believed equipment, namely luggage straps, could be used as 'lock-on devices', which are banned under the new Public Order Bill. But, they were unable to prove this.
They said: "It was not clear at the time that at least one of the group stopped had been engaging with police Protest Liaison Team officers ahead of the event. The Protest Liaison Team were not the arresting officers nor were they present in St Martin's Lane at the time of the arrest.
"The investigation team have now fully examined the items seized and reviewed the full circumstances of the arrest. Those arrested stated the items would be used to secure their placards, and the investigation has been unable to prove intent to use them to lock on and disrupt the event."
Their statement issued on Monday evening (May 8), added:: "This evening all six have had their bail cancelled and no further action will be taken. We regret that those six people arrested were unable to join the wider group of protesters in Trafalgar Square and elsewhere on the procession route."
The chief executive of Republic, Graham Smith, was one of those arrested on the day of the coronation and was held by police for 16 hours. He claims that three officers apologised to him at his door on Monday, and handed his straps back.
On social media, he said: "This evening three Met Police officers visited my home to hand back my phone and the luggage straps. They apologised while wearing a body cam. I made it clear the apology is not accepted as we will be taking further action."
Reacting to the police's statement, Mr Smith said: "Their remark that they didn't prevent all protests is disingenuous. They prevented all protest by those arrested and seriously disrupted our planned peaceful protest.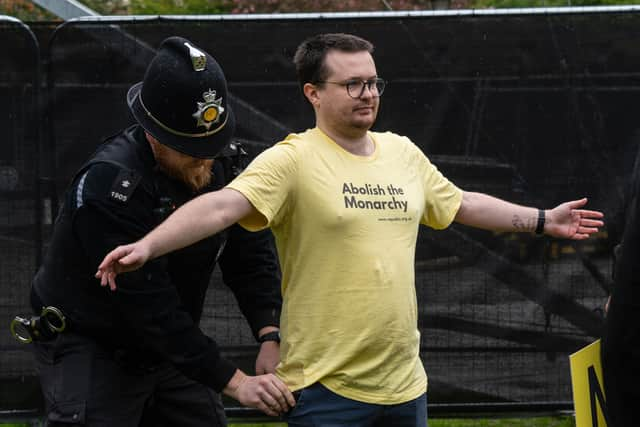 "Their actions will have a chilling effect on peaceful protest and have shattered any trust that may have existed between the police and protesters." Smith also said that himself, along with other affected protesters are considering legal action against the Met for their treatment.