Men's hiking boots: how to choose a walking boot, and reviews of the best for 2023 from Scarpa, Danner, Adidas
A great pair of hiking boots will keep your feet and joints safe, comfortable, and stable while you're out walking - be it a multi-day hike or an amble in the hills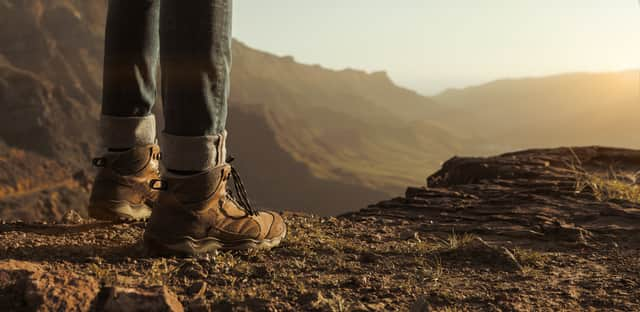 This article contains affiliate links. We may earn a small commission on items purchased through this article, but that does not affect our editorial judgement.
A good pair of boots can mean the difference between an enjoyable stroll and a week of post-hike limping; so it's important to invest in the right ones for you. Whether you're a high altitude hiker or trail running trouper there's a shoe to aid you on your adventures.
Best hiking boots at a glance
What to look for in a pair of hiking boots
Ultimately, this comes down to what you plan on using your boots for, there's no one-size-fits-all unless you're willing to make some sacrifices in comfort and function.
If you're a keen runner or fancy some summer mountaineering then it's likely you'll be looking to prioritise traction and flexibility, finding something with a snug fit to keep you firmly on the rock face. In cold, snowy conditions padding and waterproofing will be your saving graces; and in the rougher woodland terrain you'll be relying on thick soles and wide toe caps for balance and endurance.
Consider material too when making your purchase. Good waterproofing often comes at the cost of breathability and leather boots (for all their style and durability) require a higher level of commitment to maintain with the added downside of extra weight.
What To Spend
When it comes to our feet, any seasoned walker will tell you they're worth the investment. There's nothing worse than blisters and unnecessary aching. On average, you'll be looking to spend between £50 to £200+ depending on the features you're after, so we've included a range of brands to help you find the perfect style and price to suit you.
If you're on multi-day hikes or treks, look at spending a bit more for added comfort and protection. There's nothing worse than uncomfortable, or more importantly, inappropriate boots for the conditions you're in, and our advice would be to get to know the materials, weights and feels of different fabrics and styles to find what's right for you.
Get kitted out for all of your hiking adventures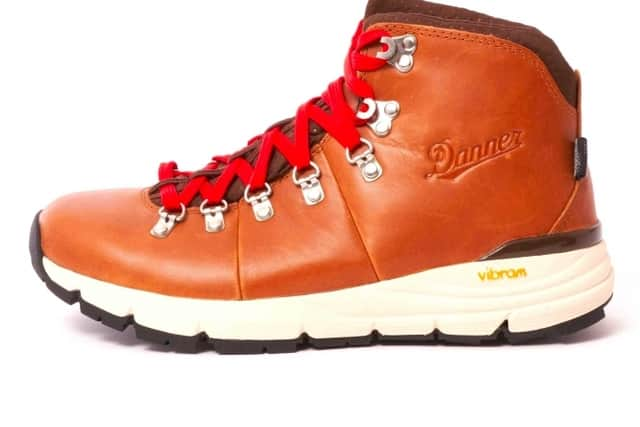 Material: Suede/Nubuck/Textile
Qualities: GORE-TEX liner and waterproof lining
If you're after all-round comfort and reliable support then look no further than the Danner Mountain 600. The Fuga outsole provides the wearer with exceptional grip on all terrains and the Vibram SPE midsole keeps you safe from bruising and blisters on your travels.
Another feature we found really stood out with the Danners was their leather-like sturdiness, without the extra weight that usually accompanies.
The only real downside to this product is the price: one of the costlier items on our list so probably best reserved for committed hiking rather than dog walking.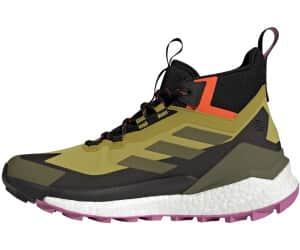 Material: GORE-TEX membrane and Continental rubber outsole
Qualities: Lightweight and waterproof, made from recycled materials
The Adidas Free Hikers are some of the most waterproof lightweight shoes we've tried recently - even in winter - leaving feet bone-dry and cosy.
Some might not find the shoe to be as comfy as others due to the narrow fitting and little wiggle room but ultimately the cool design and bouncy rubber outsole wins out.
If you're tempted by TERREX we'd strongly recommend buying in any colour other than pure olive/ orange impact - a bold choice that will certainly make you stand out!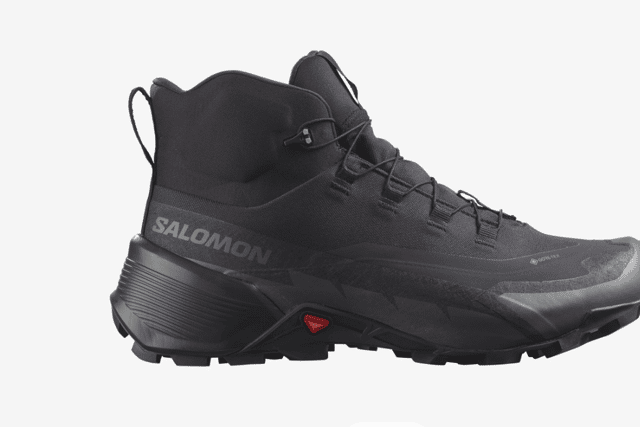 Material: EVA midsole, Fabric, Synthetic
Qualities: Featherweight, grippy, no-wobble midfoot, quick lace system
The flexibility and versatility of the Salomon's are unparalleled, with a fast and easy lace up system which makes these shoes perfect for everyday wear in addition to long hikes and fell running.
Despite the mud contagrip outsole, the Salomon's seem to have a few problems in icy and snowy conditions and if you're looking for something supportive around the ankle, this may not be the right shoe for you.
All in all a far better performer in the drier summer months with their lightweight, breathable material.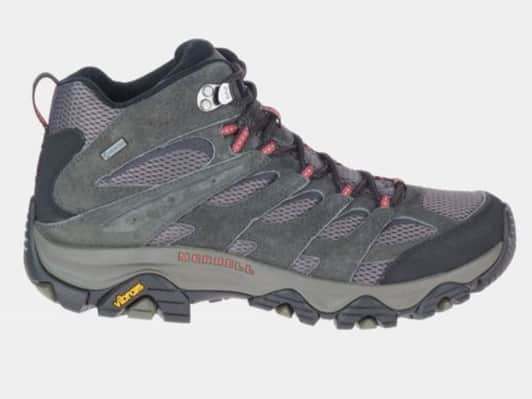 Material: Leather, Nylon, Recycled Materials
Qualities: torsional rigidity, reinforced heel cushioning, sustainable materials
The Moab 2 was a permanent fixture in all 2022 roundups, and we suspect the Moab 3 will be no different.
The Merrell boot is one of the cheapest on our list but we found that it held its own alongside the premium boots on offer, particularly in the comfort department - the Merrell Air Cushion provided cosiness and reassurance in equal measure over most terrain.
The boot did struggle slightly with traction on muddier tracks.
Though the Moab has something to offer all hikers we believe it would be a great boot for a first time hillwalker or backpacker.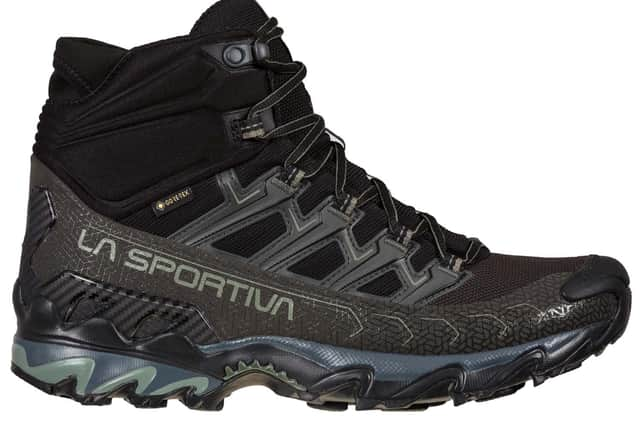 Material: Gore-Tex lining, Ortholite footbed, EVA midsole, abrasion resistant mesh upper
Qualities: Comfort Collar ankle protection, breathable, rear stabilising heel
For those who prefer the trail less travelled we recommend the Ultra Raptor II.
Manufactured in the shadow of the Dolomites, this boot's stability provides hikers with traction when tackling more technical rocky terrain, while offering outstanding ankle support.
The technical nature shouldn't put off casual hikers; we found these boots to provide comfort on a par with a running shoe.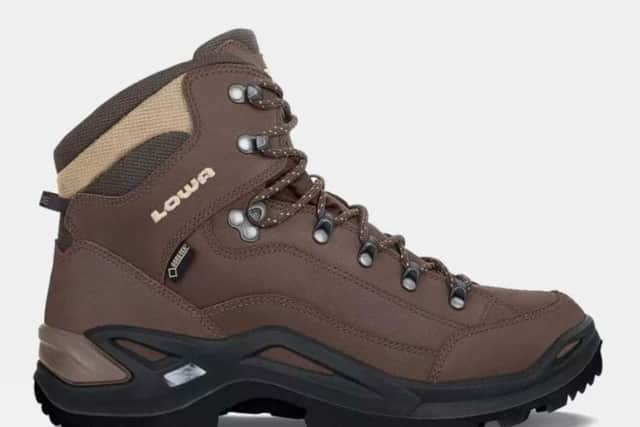 Material: Nubuck leather, Gore-Tex, EVO outsole
Qualities: 3D cradle support frame, 2 zone lacing, PU-foam padding
When it comes to outright comfort, however, the Lowa Renegade is king.
The German boot has been the boot of choice for adventurers prone to foot injuries, or simply those who prioritise comfort.
When carrying a heavy load we found that the Renegade provided outstanding support; the all leather upper means you can rely on that support for years to come.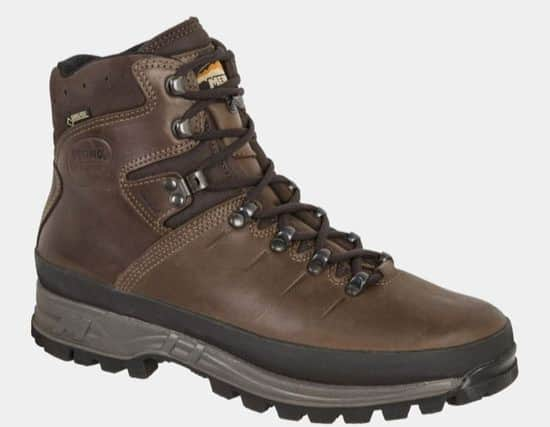 Material: Nubuck Leather upper, Gore-Tex lining, Vibram rubbersole
Qualities: Air-Active footbed, Memory Foam System
Another German entrant, the Meindl Bhutan has been a hit with hikers for a good decade now.
The boot is quality personified, with its gorgeous Nubuck Leather upper and Vibram rubbersole.
Meindl boots are so often the choice of hunters and its easy to see why - these are boots that will stand up to everything the countryside has to throw at you, whether that be bog, gravel or mud.
We found the memory foam system in the Bhutan a welcome friend when tackling rugged rocky terrain on the Knoydart peninsula.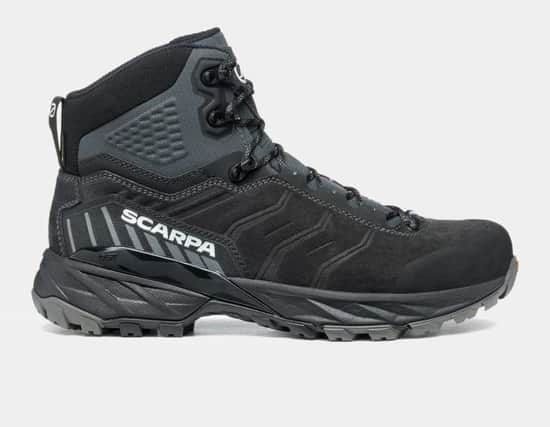 Material: Leather upper, Gore-Tex lining, Presa sole
Qualities: Comfort prioritised, sure-footed, stable
Lightweight, supportive, comfortable, grippy, watertight; simply put the Rush from Italian manufacturer Scarpa is a wonderful all-round boot.
We took the Rush TRK GTX on a rocky ridge walk and found ourselves breaking more and more out of our comfort zone with stride choice, due to the boots surefootedness.
The price and break-in period might put off some but we think these boots are worth every penny.