Best souvenirs and memorabilia to commemorate the Queen's Platinum Jubilee 2022
The UK continues to gear up for an historic celebration arking the Queen's 70th year on the throne. Here is the stand-out merchandise to mark the ocassion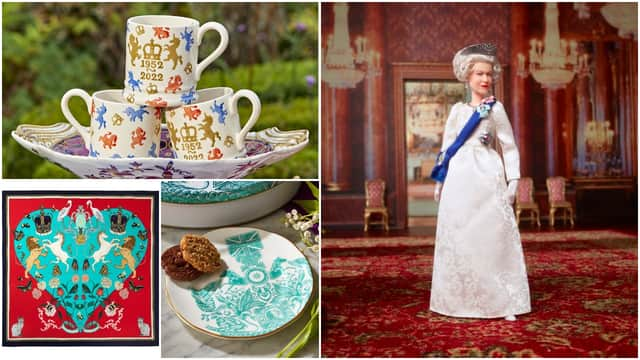 This article contains affiliate links. We may earn a small commission on items purchased through this article, but that does not affect our editorial judgement.
Since ascended to the throne in 1952, QueenElizabeth II has had her face put onto everything: from delicate commemorative teaspoons, to tea towels, to pictures to adorn your walls.
Odds are high if you have an elderly relative who is fond of the long-standing monarch, you'll have drunk a cup of tea from a mug sold to mark her coronation (or a Charles and Diana mug sold to mark their ill-fated wedding celebrations, but less of that).
And since this year marks 70 years since Queen Elizabeth II first became queen, naturally there's a host of memorabilia being sold to mark the occasion.
What commemorative memorabilia is there?
Now, all you'll have had to do is take a look at a tourist shop in just about any UK city to discover that royal memorabilia is not all created equal. Naff mugs and commemorative plates with poorly-rendered imagery abound, as do frankly frightening masks with the royal visage on them.
And while a royal teapot or tea towel was all the rage to mark her coronation in the fifties, thankfully, things have progressed impressively since then.
Don't waste your money on a set of teaspoons that will be relegated to the display cupboard and never deployed - why not invest in Jubilee Weekend Cool Bag instead, filled to the brim with celebratory goodies?
There are better options for a celebratory piece of merch out there - from gorgeous drinks and silk scarves, to books and, of course, commemorative coins. Perfect for the ardent monarchist in your life.
We've rounded up some of the top items that are available to buy right now, so you can mark the occasion and remember this momentous year.
Please note: demand for Jubilee Memorabilia is very high, so many items - particularly the Royal Mint Commemorative Coins - have sold out and are in the process of restocking.
If you have your heart set on a particular item, it's worth book-marking this page and checking back to see if it's back in stock.