Boxer Rhiannon Dixon on the frontline of Covid-19 battle
Wigan boxer Rhiannon Dixon has been helping the nation in the fight against Covid-19 by working on the frontline in St Helens.
Published 13th May 2020, 08:24 BST

- 3 min read
Updated 13th May 2020, 08:26 BST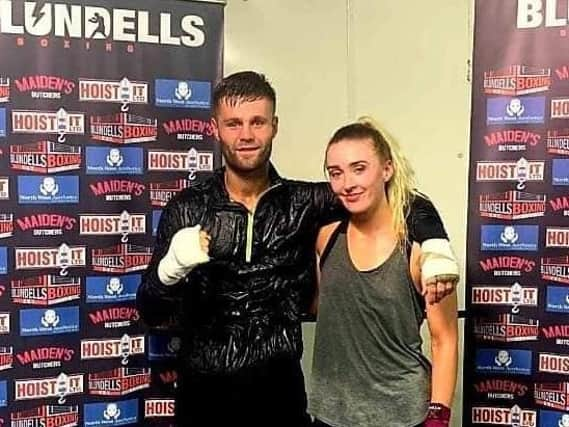 Dixon, who turned 25 last month, has been balancing her pharmacist work at Whiston Hospital with professional boxing over the last eight months.
And the Blundell's Boxing star, who impressively won her two opening bouts in 2019, is fighting another battle outside of the ring – for us all.
Speaking to VIP Boxing's maverick Lee Hogan, Dixon gave an unique insight into her work for the NHS on the COVID-19 wards.
"Since coronavirus started, I have been on one of our COVID-19 wards," she said.
"We shut it last week, so then I got moved to cardiology, but then we've reopened it again now so I'm back on there next week.
"It was really daunting at first, because we didn't kind of know what we were getting ourselves into...like when you go onto the ward, we have to put all the PPE on and get like scrubs on.
"It's been a massive learning curve really, not knowing what to expect.
"It's quite difficult with different medications.
"But we have received a lot of guidance over the last few weeks on what people should and should not be taking, and we've got a few clinical trials running at the moment, so it's just completely changed the way of working at the moment as well.
"We have changed a lot of our wards into coronavirus wards, we had one for elderly people, we shut down one of team mythology wards, and we turned one of our surgery wards into an overflow for ICU patients so it seems like we've really managed it.
"We're over the first bit, but people need to be vigilant and sensible with social distancing.
"We don't really know when lockdown might end – they don't really tell us much.
"But it's more setting out plans on how we're going to treat people, and making sure we have enough beds for everyone who comes through the door.
"We also need to make sure we have the right equipment to treat people.
"I don't really watch the news, because obviously I'm around it so much in work, I want a break from it when I come home.
"And when I come home, I need to go do training and stuff as well, so I have got distractions.
" just hope everyone keeps following measures and stays safe, so we can conquer COVID-19 as one."
While Dixon has been working tirelessly along with thousands of fabulous NHS workers, she has managed to create time to train at home with her long-term partner Ross Thomasson.
And her profile in boxing has been continuing to rise- despite the postponement of sport, as she recently moved to third in the British rankings and 45th in the world rankings.
Dixon couldn't hide her delight, admitting the news of her rankings ascendent had came out of the blue.
"I was so shocked...like where did that come from?
"Lee Blundell tagged me on Facebook, and I was third in the country and 45th in the world, and I was thinking, who have I made friends with who has bumped me up!
"I could've never predicted this in the short time I've been a professional."